8EEZ Playlist: Huey Lewis and the News
A Man's Man, San-Fran band who was the heart (and soul) of rock 'n roll.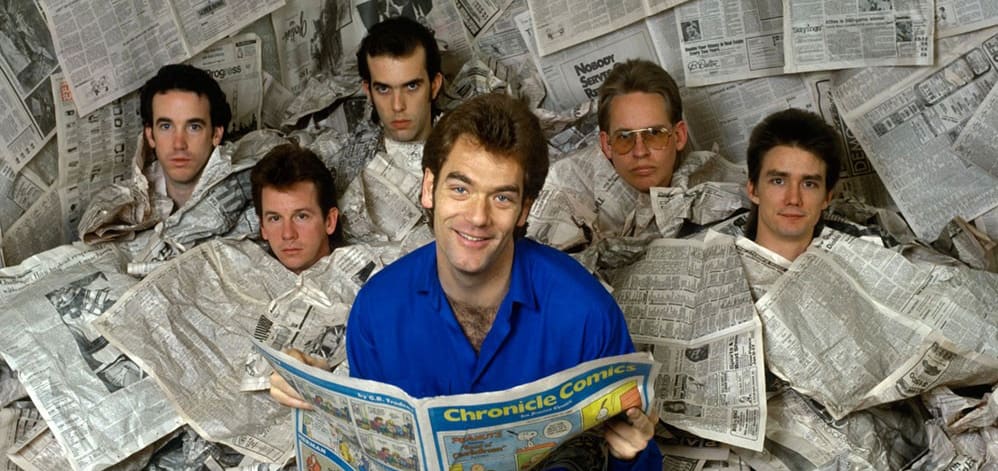 Hi-hooooo! Hi-hooooo!
Okay, enough of that. Too much "Snow White and the Seven Dwarfs" on the brain. Time to get back to business - of music, that is.
All throughout the decades, there was always a music group or act that had one objective and one objective only...."Just. Have. Fun!". In the 50s, there was "Bill Haley and His Comets, Chubby Checker, and Elvis Presley. In the 60s: The Beatles, The Beach Boys, Jan & Dean and Frankie Valli & the Four Seasons. In the 70s: Bachman-Turner Overdrive, Grand Funk Railroad, Wild Cherry and I guess, if we're talking about super-groups, ABBA and The Bee Gees were also part of the "let's have fun" genre.
In the 80s, many of the artists and bands, my friend, Oates and I have profiled, have also been about the 'fun' carousel: The Cars, Devo, and Loverboy are also examples of the genre (all with 'lists pending), but one band out of San Francisco, CA, were the epitome of fun, fun, fun, 'till your Daddy took the Chevy Camaro away.
They were a then-five man band fronted by gravelly-voiced, harmonica impressario: Hugh Anthony Cregg III, but gave himself the catchy pseudonym, Huey Lewis. Lewis was born in New York City and worked with the likes of artists and bands like the Irish group Thin Lizzy, Nick Lowe, and Bruce Hornsby & the Range.
His band debuted their album in 1980 with little fanfare. In 1982, their album Picture This, finally yielded their first Top 40 hit, "Do You Believe In Love?" going all the way to Number 7. A minor hit, "Workin' For a Livin'", followed, but didn't chart into the 40. Then, in 1983, things went 'gangbusters' with their followup album, Sports.
From 1983 to 1984, Huey Lewis and the News were on a hot streak with hit after hit: "Heart of Rock & Roll", "I Want a New Drug", "Heart and Soul", and "If This Is It", all cracked the Top 10 and got plenty of MTV airtime with their videos. The album sold like hotcakes and made them a household name. Then, as fame arose like wildfire, a controversy erupted.
In 1984, it was believed that Huey Lewis and the News were the first approached by Ivan Reitman to do a theme song for his soon-to-be-a-blockbuster-smash, Ghostbusters. Lewis declined on account of he didn't like the concept and also because he admitted that he wasn't into writing music for movies. The reigns then went to R&B/pop/funk singer/songwriter, Ray Parker Jr. who banged out the movie's theme and went all the way to Number 1 on the Hot 100 with it. Lewis felt that Parker's synth track was a mirror copy of his, from "I Want a New Drug", and sued for plagiarism. It was eventually settled and monies dispensed, but neither party has ever revealed the amount.
Strangely, despite Lewis's stance on movie music, directors Steven Spielberg and Robert Zemeckis approached Lewis about doing a movie theme for their soon-to-be-blockbuster, Back to the Future. The result? Their first Number 1 smash, "The Power of Love" in 1985 and a cameo by Lewis in the film as a music teacher.
Fore, in 1986, would be their followup and give them their second Number 1 smash, "Stuck With You," and they would cap it off with a collaborative effort with Bruce Hornsby on "Jacob's Ladder", their last Number 1 hit.
Lewis continues to tour with the new News and has been seen occasionally acting in movies, most notably in "Duets" with Gwyneth Paltrow, where they covered the Smokey Robinson classic, "Cruisin'".
Here's my buddy Oates' fun 'list"
CHERRY'S PICKS
5. 'I Want a New Drug' (1984)
Goofy, dance-able, toe-tapper about comparing love to high not found in any pharmaceutical drug or illegal narcotic. One of many signature hits.
4. 'Stuck with You' (1986)
It was their second Number 1 smash and the closest to a ballad they recorded. It had the distinction of being knocked off by Janet Jackson's first Number 1 single of the Control album, "When I Think of You".
3. 'The Heart of Rock & Roll' (1984)
Another signature smash hit from the Sports album that became their sort of 'Sports Bar' anthem. On my list two: but, how high? Hmmm-

2. 'If This is It' (1984)
A mid-tempo ballad about "loving or leaving" that kept the News on their white-hot streak.

1. 'Do You Believe In Love?' (1982)
Their debut here in the US cracked the Top 10, and it put the group on the map with this feel-good, finger-snapper with the killer sax solo and in sync harmonies.
MY PICKS
5. 'Heart and Soul' (1983)
Electro-guitar and sexy synth grooves make this fun rock/new wave track sway your hips in your seat while scarfing down pizza and a beer.

4. 'I Want a New Drug' (1984)
I also love this HL&TN track. Controversy aside, it's still a bubbly track about the joys of a natural high - which is, tritely put, yes...love.

3. 'Hip To Be Square' (1986)
A song I remember starting high school to. A fun confection that brags about the joys of non-conformity. It was also the basis for a grisly, deconstructionist scene in the 2000 horror/slasher/comedy, American Psycho.

2. 'The Power of Love' (1985)
Their first Number 1 smash and a fun movie theme song to the Michael J. Fox scifi/comedy/actioner, Back to the Future.

1. 'The Heart of Rock & Roll' (1984)
My top choice. It's simulated heartbeat starts us off and gives us a rollicking musical romp that recalls why rock 'n roll will always keep the beat.
That's all she wrote. Next up: a platinum blond punk rocker who doesn't have a problem being his own dance partner.