8EEZ Playlist: INXS
An Aussie Super-group with a Tragic Story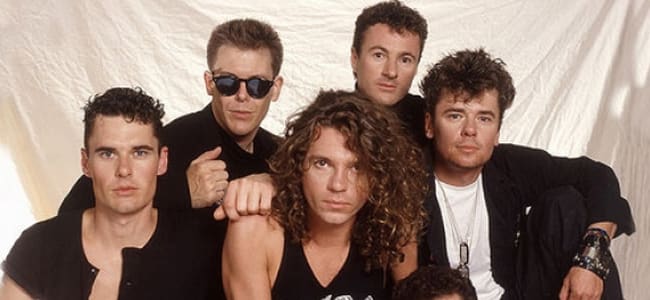 G'day mates!
Gone Australian with this 'list and it's a request from my good buddy Calvin "Oates" Cherry who admitted to me that it's one of his favorite rock group. INXS (pronounced In-excess) was a band formed in Sydney composed of three brothers (Farriss), two band members, and a smoking hot lead singer who had a hot, sexual mystique to rival Jim Morrison of The Doors.
Michael Hutchence (a native of Sydney) was the lead singer for the group since its inception back in 1977. His long hair, lean frame, and macho stage bravado made him one of the reigning 80s sex symbols in the rock era.
The band would rack up major hits throughout the 1980s and the early 1990s. Their seminal album was 1987's Kick which spawned four major hits including their only US Number 1, "Need You Tonight" a sort-of Prince-inspired funk/rock fusion that made great use of Hutchence's sexually-charged vocals; also part of a medley called "Mediate", inspired by the work of Bob Dylan.
Then, in 1997, tragedy struck. Hutchence was found dead in his Sydney hotel room. The reports were that it was a drug-induced suicide, though there were also unconfirmed reports that it was in the middle of a sex act. At only 37 years old, Hutchence would enter the realm of legendary rock-god. The band has since disbanded in 2012 with various singers filling for Hutchence since. Still, his memory lives on through their music videos, hit records, and concert footage.
My buddy Oates furnished his list and it's as follows:
Cherry's Picks
5. "Please (You Got That)" w/Ray Charles (1993) — A bluesy dance/rock confection that was a collaborative effort with the iconic soul singer. Has an air of The Rolling Stones throughout the entire track.
4. "Taste It" (1992) — A dancey alternative rock cut with a throbbing, repetitive bass and percussion, along with a prominent electric guitar melded with a funky rhythm guitar and sexy sax to boot. More successful on the Billboard Mainstream Rock charts than on the pop.
3. "Never Tear Us Apart" (1988) — A torchy rock ballad notable for its keyboard-as-strings opening and its absence of percussion till after the first verse. Hutchence oozes sexuality all throughout the track. A Top 5 hit and the fourth release from Kick.
2. "Need You Tonight/Mediate" (1988) — It's unclear if Hutchence and the group were fans of the late Prince, but the Purple One's stamp is all over this rock/funk gem with it's staccato beat and almost industrial rock/dance sound; excessive use of electric and rhythm guitar and it has a very sensual feel.
1. "Good Times" w/ Jimmy Barnes (1987) — From the movie The Lost Boys; a balls-to-the-wall rocker with the lead singer of Cold Chisel. Oates has admitted me many a time that this was his favorite 80s movie and soundtrack. Good choice.
My Picks
5. "Suicide Blonde" (1990) — Another nod to the Stones with this infectious track. Went Top 10 as did its followup hit "Disappear." Off their album simply called X.
4. "Devil Inside" (1988) — Didn't go to Number 1 like its predecessor "Need You Tonight", but still a gritty, pissed-off rock cut with a blatant Exorcist theme. Did however go to Number 2 on the charts, that accounts for something.
3. "Never Tear Us Apart" (1988) — Great minds think alike. This sexy ballad matches the same position as mine.
2. "Guns In The Sky" (1987) — The first cut off the Kick album. While it was never an official hit, it was a concert staple and yes , as luck would have it, has its OWN music video; the group and Hutchence bursting through doors in a long corridor and showing seriously dangerous swagger.
1. "Need You Tonight/Mediate" (1988) — This Prince-inspired cut has always been a staple of my mp3 playlisSt as is its uncut video which borrows a page from the Bob Dylan book of political protest, flinging cue cards with several keywords in black paint.
Cheerio mates! Next up: A comeback queen who had her own movie while she was still alive!