Adele
Let's talk about the real queen of England.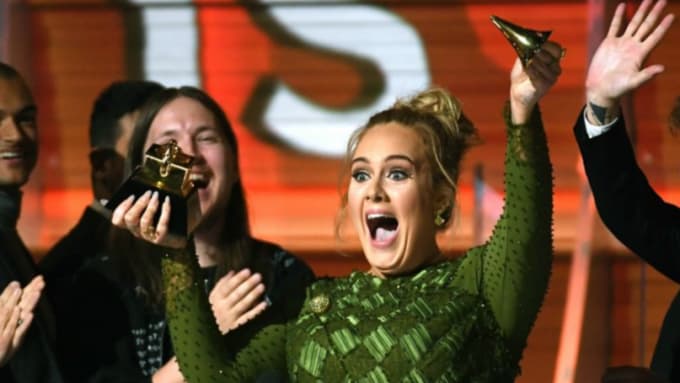 I recall the day I turned on the radio and Adele was there chasing pavements... As a 12-year-old, you don't understand the depth of an artist like that. Her debut album, '19', was amazing but I didn't grow to love it until I was older. But still, I was singing along to her amazing vocals. She won 2 Grammy's in 2009 for Best New Artist, one of the most highly acclaimed awards and Best Female Pop Vocal Performance for 'Hometown Glory'.
I was waiting anxiously for new music and 3 years later the world was blessed with '21'. Rolling In The Deep spent 65 weeks on the charts, that is longer than a year; that is longer than some careers. Rolling In The Deep is and will always be one of the best songs of all time. (That song got me into Performing Arts college and became my go-to audition song.)
'21' won 7 Grammy's over the course of 2 years. In 2012 it won Album Of The Year and Best Pop Vocal Album, 'Rolling In The Deep' won Record Of The Year, Song Of The Year and Best Short Form Music Video. 'Someone Like You' won Best Pop Solo Performance and in 2013 'Set Fire To The Rain' won that same award. The album was matched with some criticism due to the fact that almost all of the songs were about one guy, but in my opinion, if you can win 7 Grammy's with songs about one guy, you are a true artist.
In 2012, she rained her magic down on us with the soundtrack for the James Bond movie, Skyfall and in 2014 won a Grammy for Best Song Written For Visual Media.

Three years later she released '25' and the world went nuts. I memorized the album within a few days. The debut single, 'Hello', spent 10 consecutive weeks at number 1 on the Billboard Hot 100. Again, Adele broke the Grammy's in 2017, winning both Album Of The Year and Best Pop Vocal Album and winning Record Of The Year, Song Of The Year and Best Pop Solo Performance for 'Hello'.
To be clear, between the 3 albums that she has released, she has won 15 Grammy's! I will say that again, 15 GRAMMY'S!!! Most artists do not achieve that throughout their entire careers.
I do not want to sound like Wikipedia but in total, she has won 51 awards including Brit Awards, Billboard Music Award, American Music Awards, etc.
To continue, Adele is one of the most powerful vocalists in the world and of our time, right up there with artists like Whitney Houston, Celine Dion and Jennifer Hudson. She is a phenomenal songwriter and an all-around breathtaking artist.
Lastly, I want to speak about her personality. I have seen the recording of her Royal Albert Hall Concert and I could not stop laughing. In the way her music is serious and meaningful, the polar opposite is true for her personality. She constantly makes jokes and she is very self-deprecating at times and who doesn't love someone who can laugh at themselves? She keeps it real in interviews and she allows people to see the real her.
She said in an interview with James Corden that she is not going to name her next album after her age. In my opinion, she should just name is 'Grammy's, Here I Come.'
P.S. If she sees this, Adele, you're amazing and I love you.
Keep on keeping on.