Coral the Merknight vs. SEARANTULA's Weaves A Story With Metal Music
Album Review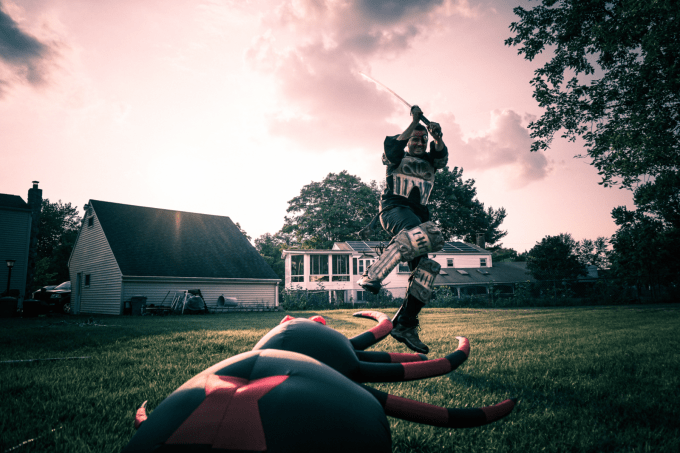 Metal parody isn't a new thing, and even Tenacious D wasn't the first band to do it, even if they're one of the most memorable (Tenacious D And The Pick Of Destiny and Jack Black's crazy, outgoing nature probably had a hand in how memorable that band really is).
It Weaves A Web Of Metal is an album full of masterful metal tunes by a guy known as Coral the Merknight. The album tells a story, kind of a concept album with a comical twist. While there are silly points in the songs, they are well-made songs (and plenty of sweet metal covers) with full and rich tones, melodic metal music that creates an amazing atmosphere in your mind.
The album starts with a "Disclaimer," which is a bit frightening and funny all at the same time. Coral may be a one-man show, but to make this album full and fantastic he enlisted Travis Orbin of Darkest Hour and Adōn Fanion of Ghost Ship Octavius.
Tongue-in-cheek lyricism meets dynamic metal sounds. From deep melodic tones to interesting sounds, this album has a little bit of everything that a metal nerd could love. It's masterful, in my opinion anyway. I really enjoyed the highs and lows in the sounds of the instruments. Even the narrative bits, with a more silly side, are interesting and add a ton to the story this album tells, even if they don't entirely add to the songs themselves (meaning they don't add to the sound, the rhythm, the way the song makes you feel from an instrumental aspect).
"Videogames > Girlfriends" is a fun little song about how video games are better than having a girlfriend. What nerd has time for a girlfriend anyway? The narrative on this story is silly and fun, and the music kind of includes a video game-esque sound throughout parts of it.
"All This Walking Is Making Me Thirsty" is an instrumental track. I liked the vibration of this song (listen and you'll understand). Metal sounds good without singing, especially when it's metal done right, and this is.
(Oh Great, Another) Origin Story
"(Oh Great, Another) Origin Story" is another instrumental track off of this album. This one has an awesome (Awesomely good? Awesomeley bad? You decide) video that you can check out. You get to see our merknight hero battling the searantula. At the end of the video, you get a glimpse of some funny bloopers that include a lot of random tossing of a large Halloween lawn spider.
"ScarJo(Lene)" is by far one of the most awesome things that this album has to offer. Dolly Parton made this song sound great, but turning this into a metal song is beyond compare. You'll be amazed at how awesome this song sound. I am in awe.
"Whip My Hair" is another metal cover, of sorts. This one is pretty dang awesome too. I already loved this album and now I think everyone needs to own this. It's metal greatness. This one is even heavier metal than the rest of the album!
The last song I am going to talk to you about is "Under The Sea." You know, that song from The Little Mermaid. It's definitely a fitting song for a metal album about a merknight, am I right? I love the sound of this tune. It's like a metal Disney jewel. It's dark. You'll be picturing tiger sharks in place of little, striped Flounder.
With 13 songs on this album, I've only given you a little taste of what you can expect when you snatch this awesome piece of metal madness off Amazon. You won't regret it (unless you absolutely hate metal music, then I'd suggest not purchasing it and getting a life, aka better taste in music).