Documentary 2 + 2.5 Review
The Game's Best Albums?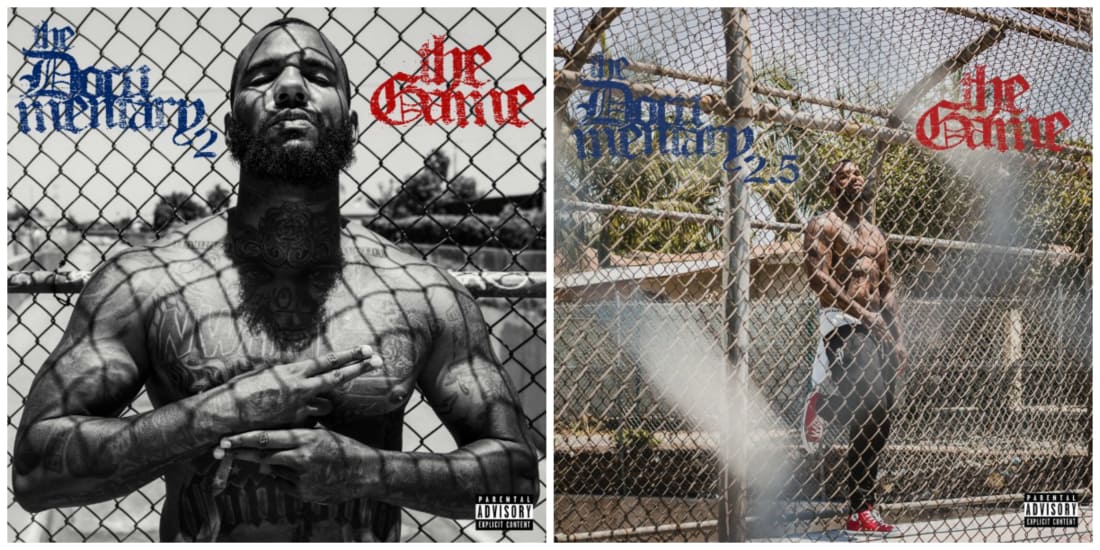 The Documentary 2 Opening Opinion 9.9/10
The Documentary 2.5 Opening Opinion 10/10
Okay, so this is technically a double in depth review… but let me kill two birds with one stone. These albums really blew me away. In October of 2015, I knew The Game was dropping a sequel to his former best album, The Documentary. What I didn't know, is that he was dropping another album right after that… like a week after that. First I'll talk about 2, then 2.5.
First up there's a skit that's really just about how real it is in Los Angeles. "On Me" with Kendrick Lamar is a great song. Game does that rapping copycat thing where he sounds like the rapper he has on the track LOL. He's done it before… he did it a lot on the Red Album. Kendrick's verse is dope too, but you can tell right away that Game has stepped it up. "Step Up" is another great track. Its silky smooth and hype at the same time.
Next Game recruits a couple of west coast legends, Ice Cube & Dr. Dre, to spit on a will.i.am beat. The song is straight fire. Ice Cube sounds great, as does Dr. Dre. I really was wondering where the hell is Ice Cube's next album he promised in 2013. The next song, "Standing On Ferraris," features Diddy. It's kind of odd in the sense that it's got the same beat as The Notorious B.I.G.'s "Kick in the Door." It may be polarizing to some, but I like it. Apparently Diddy got a new car from Game for no damn reason, "it was just a Tuesday" LOL.
The next song, "Dollar and a Dream," features Ab-Soul. Ab spits a verse so tight, he actually shows up The Game. The song has one of the coolest beats as well. The song blends right into "Made in America," a decent, but weakest song so far. "Hashtag" is a weird song featuring Jelly Roll. I think Jelly Roll is a producer. It's polarizing, I like it, but it took a few listens.
"Circles" is a good song, but I think it's not executed as well as it could have been. Q-Tip's verse is the best part after Game and Sha Sha go argue LOL. "Uncle" is a very skippable skit. "Dedicated" features Future and Sonyae… and it's one of the best songs. It continues the eclectic feel of the album like with "Standin'." "Bitch You Ain't Shit." is by far the worst song here. It's got an okay chorus and ok verses… but its tasteless and bitter sounding. I really like "Summertime," which features Jelly Roll. It's a smooth record you can and should just ride too.
Kanye West joins the party for "Mula" but he only does the hook, which is what Kanye did to Game on Late Registration's "Crack Music." It's an awesome song with a funny skit at the end. The title track is also really really dope. Different DJs talk at the end of it. The next 3 songs are very cohesive sounding and are cohesive. "100" featuring Drake is a good song that I didn't care too much for on first listen. It's really smooth though. The last song hot but it almost sounds out of place. Snoop does his thing, as does Fergie and will.i.am.
Closing Opinion for Doc 2… 9.85/10
Documentary 2.5 is actually the better of the 2 albums… yes you read right. The opening skit is very very vital. I always wondered what happened between Game and 50 Cent. "Magnus Carlsen" runs a little long but its good. "Crenshaw/80s Cocaine" also features Anderson. Paak likes the first song, but it's so dope. You can tell right away this album will be a more west coast sounding album.
The next 2 songs are linked, "Gang Bang Anyway" and "The Ghetto." The former is a dark song featuring the other members of Black Hippy: Schoolboy Q and Jay Rock. Both rappers kill it but Game does well too. The latter features arguably the best rapper alive, Nas. Nas kills it but Game spits just as well. So far the album's execution is borderline flawless.
"From Adam" and "Gang Related" are great songs too. Lil Wayne's hook on Adam is perfect. After that, Game pays homage to 2pac, the legendary rapper. Scarface does well here as well. "Intoxicated" is too long of a skit, but its necessary for the mood of the album. I absolutely love "Quick's Groove." The beat is fire as the album goes to a lighter tone. It sounds like an old school west coast song. "Outside" features one line from E-40 LOL. "Up on the Wall" is a terrific song featuring Problem, YG & Ty Dolla $ign. I love the beat as it reminds me of "Groove" which was 2 tracks before it…
The next skit is so SKIPPABLE. Its worth hearing once, but it's rather odd LOL. "My Flag" is a posse cut and its pretty damn good despite being 6 minutes. The west coast onslaught continues with "Moment of Violence." "Like Father Like Son 2" is good as it's a sequel to the last song on the original Documentary. Game's kids join him and Busta Rhymes for the sequel. The last song is also good and far from filler. "El-Chapo" is a banger as well. I love how hard the song sounds.
Closing Opinion: 10/10
Check Out The Game Feat. Drake "100"