Michael P. Cullen Faces Destruction Wearing a Suit
Release of 'Black Dog Live'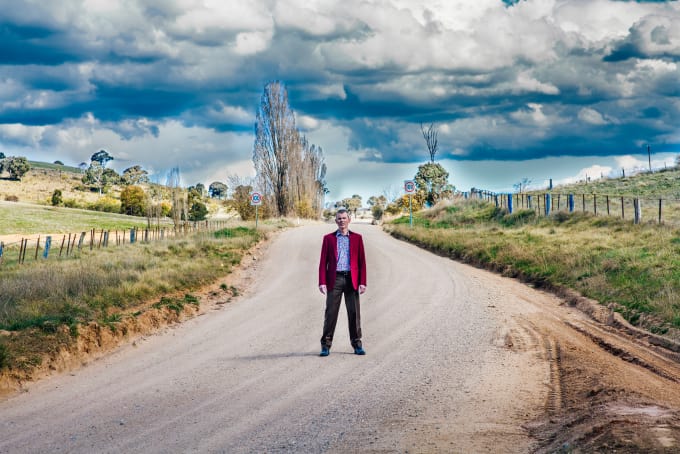 Fans of Leonard Cohen, Nick Cave, and the projects of Michael Gira will find comfort in the music of Michael P. Cullen and the Soul Searchers. Cullen's voice can be described as soulful, among other things. He's a stylish man in a suit, strumming on an old semi-acoustic guitar and backed by a band that just adds to the haunting sound his voice emits through the well-written vocals of his songs.
The Soul Searchers are:
Tim Powles – drums, percussion, vocals

Andy Sharpe – bass

James Harland-Wright – guitar

Craig Wilson – keyboards, vocals

Some of those names may sound familiar, and that is because, for one thing, "The Soul Searchers are led by all-around independent rock legend, Tim Powles (The Church) on drums." Cullen chose musicians well that would be able to back that noir sound he's making that is really not categorizable. He would properly be lumped in with not only Nick Cave and Cohen, but also Swans, Angels of Light, and Tom Waits.
'Black Dog' may be the beginning track from Cullen's newest album True Believer, but it is best heard live. If you can't fly out to Australia to catch him at a seedy dive, you can at least listen to the live recording of this song available on Soundcloud.
Listen to it here
This recording was done in Sydney, Australia, live in front of an enthusiastic audience at the Lazybones Lounge. Listening to it live lets you feel the power and the passion of this song. You get more than you would from a cauterized version edited over and over in a studio. This live recording will be available on the forthcoming Live At Lazybones EP. You can get even more of a feel for the song, and get a chance to feel like you were right there during its recording, by checking out the video on Youtube.
Watch it here
I, personally, feel like only listening to one song by an artist isn't enough to give you a real feel of their music. While one song by them may fit into a certain genre or be comparable to some greats in the music scene, that doesn't always mean the rest of their music will fit into that particular genre or dance party.
However, as I go back through Cullen's Soundcloud catalog I am finding that his sound rings true from song to song. 'Cha Cha Cha d'Amour' could be a song by Nick Cave or Leonard Cohen. It has that groovy, deep, gothic sound of Cave's 'Red Right Hand.'
'Believer' starts out with a beat that almost had me hoping for a Joy Division-esque sound, but it steered clear of that and still has that same gritty sound that could be found in a Quentin Tarantino movie.
I'm just going to keep listen to Cullen's music and add him to a list of musicians I can't believe I hadn't heard of until now. I actually feel bad for myself, and a little angry at myself. I am a long time fan of the musical stylings of Cohen, Cave, and Gira, and Cullen fits perfectly in with this menagerie of magnificent musicians that make songs that speak to souls and crazy minds. No two songs sound musically the same, but that voice of Cullen's continually hits the mark.
Much like the music of Nick Cave and Swans, the songs on Cullen's albums could easily be added to any DJ playlist in a club that caters to the goth "kids". Swaying like a tree in the wind would be very easy to do to this amazing music. I highly recommend this to anyone that grew up in the 90s, has ever loved new wave, and likes any of the other bands I've mentioned throughout this review.