Beat is powered by Vocal creators. You support
Sean Callaghan
by reading, sharing and tipping stories...
more
Beat is powered by Vocal.
Vocal is a platform that provides storytelling tools and engaged communities for writers, musicians, filmmakers, podcasters, and other creators to get discovered and fund their creativity.
How does Vocal work?
Creators share their stories on Vocal's communities. In return, creators earn money when they are tipped and when their stories are read.
How do I join Vocal?
Vocal welcomes creators of all shapes and sizes. Join for free and start creating.
To learn more about Vocal, visit our resources.
Show less
My Guitar Couldn't Hold You So I Split the Band
A History of the Elton John Band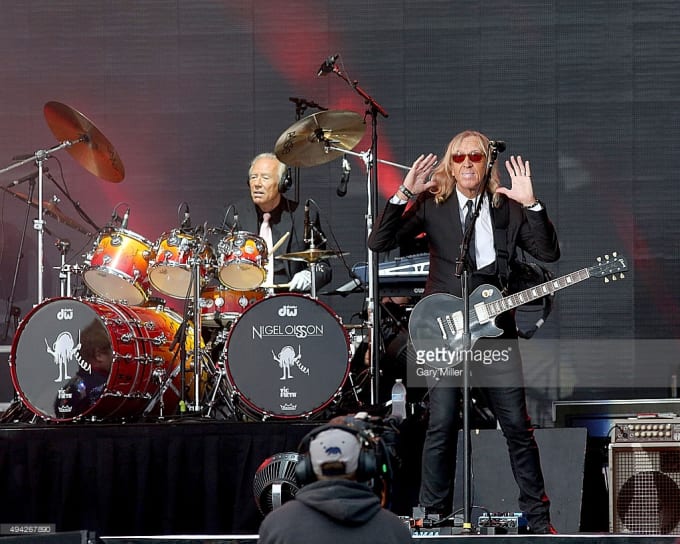 When Elton John was sent to the United States by Dick James Music in 1970 to perform. He was accompanied by a touring band comprised of Dee Murray on Bass and Nigel Olsson on drums. Though Dee and Nigel would appear sparingly on Tumbleweed Connection and Madman Across the Water the early albums relied almost exclusively on Session Musicians, that changed in 1972 with the addition of Davey Johnstone on Guitar after which the touring Band would also be used on Studio Recordings for the bulk of the rest of Elton's recorded work. His band saw many (Often controversial) changes throughout the years including firing his core rhythm section of Olsson and Murray, twice.
The Classic Rhythm Section: Dee Murray, Bass & Vocals (1970-75 1980-84) & Nigel Olsson, Drums, Percussion, Vocals (1970-75, 1980-84, 2000-present) Dee Murray and Nigel Olsson were the original rhythm section that toured with Elton when he got his big break in America and became a fixture of most of Elton's Classic Albums. Nigel started as the lead singer for the Sunderland-based band "The Fireflies". One night the groups Drummer failed to show up to a gig so Nigel substituted on drums and never looked back. He continued on as a drummer for British bands "Plastic Penny" and "Uriah Heep". Dee started learning to play bass along to his favorite records as a teenager before forming the group The Mirage. Dee and Nigel were first paired as members of a post Steve Winwood version of "The Spencer Davis Group". Dee and Nigel first met Elton at the Dick James Music office and Nigel played on the track "Lady, What's Tomorrow" on Elton's first album Empty Sky. Dee and Nigel were selected as the touring band for Elton John's 1970 US Tour which included Elton's US Debut at Doug Weston's famous Troubadour Club in Los Angeles and the recording of the 11/17/70 album in New York. Nigel and Dee first appeared together on their respective instruments on the track "Amoreena" on the album Tumbleweed Connection and appeared as backing vocalists on the song "Country Comfort". This trend continued on the Madman Across the Water album. Nigel and Dee along with new recruit Davey Johnstone on guitar and vocals became Elton's primary band on record in addition to touring starting on 1972s Honky Chateau. The three also began to perfect three part vocal harmonies which would be a feature of the next few albums. After the completion of the "Captain Fantastic and the Brown Dirt Cowboy" album. Dee and Nigel were dismissed from the Elton John Band. Over the next five-years Dee continued session work and Toured with Alice Cooper while Nigel released a solo album on Elton's "Rocket Records" Label. Dee and Nigel were re-instated into the Elton John Band just in time for the infamous 1980 Central Park Show in New York City in which Elton Performed in a Donald Duck suit. They appeared on his 1980 hit Little Jeannie with Dee on Bass and Backing Vocals and Nigel on Drums. They both appeared on The Fox album though in different roles and configurations. They became Brother-in-Law's when they each married twin sisters in the early 80s. On 1982s Jump Up! album Dee played Bass and Backing Vocals on every track of the album but Nigel does not appear at all with the Drum Chair occupied by the late Session Great Jeff Porcaro. On 1983s Too Low For Zero, Dee and Nigel along with Davey Johnstone once again played and sang backup on all the songs in the album and would again for 1984s Breaking Hearts. Following The Breaking Hearts Tour, Dee and Nigel were once again relieved of their duties by Elton. Dee and Nigel would return as backing vocalists on 1988s Reg Strikes Back album.
Dee Would Spend the Next Few Years ...
Dee would spend the next few years as a session Bassist while Nigel collaborated on Davey Johnstone's "Warpipes" Side Project in addition to session work, Dee would sadly die from Melanoma in January of 1992. Two Months later Elton performed a pair of tribute concerts in his memory with Nigel in attendance. Throughout the 1990s Nigel kept a self-imposed exile from the music business. In 2000 Nigel was asked by Davey Johnstone to appear as a backing vocalist for Elton's promotional tour for the DreamWorks Animation film The Road to El Dorado. During one of the gigs the then-current Elton John Band Drummer, Curt Bisquera suggested to Elton that Nigel should man the drums on the song "Goodbye Yellow Brick Road" which he did. In October 2000 at Madison Square Garden in New York City for the recording of Elton's Greatest Hits Live album, Nigel now with a brand new, Drum Workshop-built drum kit nicknamed "Ghana" played drums on the classic era Elton Songs while Curt Bisquera played the latter-era material. In February 2001 Nigel received a call from Elton John Band Musical Director Davey Johnstone inviting him to permanently rejoin the touring band. Elton expressed remorse upon Nigel's return over ever letting him go. Nigel would play and sing on the albums Songs from the West Coast, Peachtree Road and The Captain and the Kid and perform each show of Elton's Las Vegas-Based "Red Piano" Production. Nigel continues to tour with Elton and play the new "Million Dollar Piano" show in Las Vegas behind his various heavily personalized Drum Kits made by Drum Workshop and Paiste Cymbals. Nigel once again manned the Drums for Elton's Wonderful Crazy Night album.

Davey Johnstone, Musical Director, Guitars, Mandolin, Banjo, Harmonica, Vocals. 1972-1977, 1982-Present
In 1971 Elton felt that the Elton John Band had gone as far as it could musically as a trio and was in search of an Electric Guitar player so he turned to Producer Gus Dudgeon. Dudgeon suggested Scottish Folk Guitarist and Singer Davey Johnstone from the band Magna Carta. At first Elton was reluctant claiming he did not want to sound like "Jethro Tull" but gave Johnstone a chance as a session player on the Madman Across the Water Album, Eventually Davey's talent on both Acoustic and Electric Guitar in addition to Mandolin and Banjo changed Elton's Mind and he became part of the Band and ended up lasting longer than any other band member staying with Elton On and off, for over 40 years and has been the Bands Musical Director since 1988 and co-writing songs with Elton and Bernie such as "I guess that's why they call it the blues" on Too Low for Zero (1983), "Passengers" on Breaking Hearts (1984), "Wrap her up" on Ice on Fire (1986), "Heavy Traffic" on Reg Strikes Back (1988), "Love is a Cannibal" and "Dancing in the End Zone" on Sleeping With the Past (1989).

In addition to his work with Elton, He released a solo album, Smiling Face in 1973, Toured and recorded with Alice Cooper from 1977 till 1982 as well as being involved in the recording and support tour for Meatloaf's 1981 Album, DeadRinger as well as session work with Bob Seeger, The Pointer Sisters and Stevie Nicks.
Ray Cooper, Percussion 1973-1977, 1979, 1985-87, 1993-95, 2009-Present
Arguably the best known studio and touring Percussionist of all Time. Ray Cooper is a virtuoso on the Tambourine, Congas, Shaker, Vibes, Xylophone, Marimba, Glockenspiel, Bells, Duck Calls and various other percussion instruments. In the Early 70s he was a fixture of the Studio Session Scene playing on songs by America, Carly Simon, David Essex and Harry Nilsson. He played on several tracks on Elton's Madman Across The Water album, The song "Amy" on Honky Chateau and "All the Girls Love Alice" on Goodbye Yellow Brick Road, He made a cameo appearance with the Elton John Band performing Duck Calls on "Honky Cat" In the 1972 Royal Festival Hall Concert and in late 1973 was invited to join the Elton John Band full time and quickly became an audience favorite with his eccentric personality and stage antics. In 1977 Elton decided to perform in a new format with half a set played completely solo and another set with Ray's Percussion flourishes complementing Elton's Piano-Playing. Initially performed at London's Rainbow Theatre, Elton took the Two-Man Show format out on the road two years later. After the 1979 two-man show wrapped up Ray spent the Early 80s recording and touring with Eric Clapton and George Harrison. (Ray was very close to Harrison and is still profoundly upset over his 2001 death). He also played on Pink Floyd's final album with Roger Waters, 1983's The Final Cut. He also started work with former American Python and film director Terry Gilliam.
Ray appeared on the Track "Cold as Christmas" on Elton's Too Low for Zero.
Ray returned to the Elton John Band lineup for 1985s Live Aid and remained full-time Percussionist with him through the first leg of the following World tour before handing the percussion chair to Jody Linscott for the remainder of the tour. In 1987 Ray and Linscott both contributed their respective percussion talents to Elton's Live in Australia with the Melbourne Symphony Orchestra. In the Fall of 1993 Elton decided to revive the two-man show from the late 70s and in addition Ray returned to the Elton John Band full time for the "Made in England Tour". In 2009 Elton and Ray once again revived the two-man show and continued to perform them on occasion to this day. Ray is also a featured part of Elton's Million Dollar Piano show in Las Vegas and appeared playing tambourine on several tracks from Wonderful Crazy Night.
James Newton-Howard, Keyboards 1975-80
When Elton debuted his new band lineup at Wembley Stadium in June 1975 one notable addition was additional Keyboardist James Newton-Howard whom Elton described as "A much better Pianist than I will ever be". Classically Trained, James started his music career with the Los Angeles-based band "Mama Lion" this led to session work with Artists such as Melissa Manchester, Harry Nilsson and Carly Simon. He released a Synthesizer-laden solo album in 1974.

James and Elton first met while recording Ringo Starr's 1974 Album Goodnight Vienna and James was invited to join the Elton John Band without having to play a note of music with them. James played on the Rock of the Westies Album and the Double Album Blue Moves, on Blue Moves. He charted and conducted the orchestral arrangements on the album including Sorry Seems to Be the Hardest Word. He would again do the arrangements on Elton's hit duet with Kiki Dee "Don't Go Breaking My Heart".
In the late 70s, He and Elton almost created an orchestral -based album collaboration but nothing became of it so he formed the band China with Elton John Bandmate Davey Johnstone. He continued as Keyboardist with Elton's band through the 21 at 33 album and subsequent 1980 tour then went on to play Keyboards, Arrange and produce acts such as Neil Diamond, Barbara Streisand and Rod Stewart as well as recording and touring with Toto and Crosby, Stills and Nash. He continued to contribute Arrangements to Elton's Albums including The Fox (1981) and Jump Up! (1982), the song "One More Arrow" on Too Low for Zero (1983), two songs on Ice on Fire (1985) and the song "Slow River" on Leather Jackets (1986) and arranged and conducted the Melbourne Symphony Orchestras 1987 performance with Elton. In 1986 He scored the film "Head Office" and went on to become one of the most prolific Film Composers in Cinema today, including The Fugitive, The Sixth Sense, Disney's Dinosaur and Atlantis: The Lost Empire, Peter Jackson's King Kong and The Hunger Games franchise, "Fantastic Beasts and where to find them" and collaborating with Hans Zimmer, Christopher Nolan's Dark Knight Trilogy. He also worked with Elton on his film project Gnomeo & Juliet.
Kenny Passarelli, Bass, Backing Vocals (1975-76)
Colorado born Bassist Kenny Passarelli first rose to prominence performing in legendary Guitarist Joe Walsh's backup band "Barnstorm" where he would co-write with Walsh, Joe Vitale and Roce Grace, Walsh's anthem Rocky Mountain Way as well as performing and recording with Dan Fogelberg. Both Fogelburg and Walsh were managed by Irving Azoff who was also manager for the Eagles, the legendary rock band of which Walsh would become a member after the departure of original Guitarist Bernie Leadon. Elton had met Joe Walsh in Las Vegas and Walsh recommended his Bassist to Elton, after releasing Dee and Nigel from the band, Elton made Kenny his new bassist and Kenny Joined the new band on stage at Wembley Stadium on June 21st 1974, (Walsh as well as the Eagles at that time among many others played set's earlier at the event.) On tour with Elton in Detroit he got hit in the chest by thrown binoculars from the stands for unexplained reasons. He played on Elton's Rock of the Westies and Blue Moves albums. Elton dissolved the band in 1976, but Passarelli collaborated with Elton's Lyricist Bernie Taupin on the song "Im' never going to break your heart". He then went to work with Hall and Oates and convinced them to bring his former Elton John Bandmates Guitarist, Caleb Quaye and Drummer Roger Pope into their Backing band. He once again returned to perform with Dan Fogelburg in the 80s and then toured with Crosby, Stills and Nash, went on to release three Solo Albums and today appears as part of Stephen Still's touring band as well as appearing on Joe Walsh's 2012 album Analog Man.
Roger Pope, Drums (1975-6)
Roger Pope had played as a session musician on many of Elton's album's long before he was a member of the Elton John Band. Roger played drums on every track of Elton's UK Debut Album Empty Sky except for the track "Lady what's Tomorrow" on which Nigel Olsson played on his first appearance with Elton. He played on several tracks on the albums Tumbleweed Connection and Madman Across the Water.
He along with Guitarist Caleb Quaye, Bassist David Glover and harmonica player Ian Duck were members of the band Hookfoot as well as all being session players for Dick James Music which led to them being on the early Elton records. After Hookfoot's disbanding Roger went on to work with Harry Nilsson on his classic Nilsson Schmilson Album and then Kiki Dee and then joined the Elton John Band at the "Captain Fantastic" Concert on June 21st 1975. He played on the albums Rock of the Westies and Blue Moves. He then went to join bandmates Davey Johnstone and James Newton-Howard in their band "China". Then rejoined Caleb and Kenny Passerelli in Hall & Oates Backing band. Pope passed away in September of 2013.
Caleb Quaye, Guitars, Backing Vocals (1975-6)
One of Elton's earliest accomplices pre-dating even Bernie Taupin, Caleb Quaye first met young Reg Dwight when they were both staff songwriters in London's Tin Pan Alley. Caleb was hired by Dick James Music as a staff songwriter and was responsible for bringing the collaboration of Elton and Bernie to DJM as staff songwriters. He produced the earliest studio recordings Elton did and contributed Guitar as a session player to all of Elton's early albums up until the hiring of Davey Johnstone as full time guitarist of the Elton John Band. After the abrupt firing of Dee Murray and Nigel Olsson from the Elton John Band in 1975 and the ensuing band re-construction Elton asked Caleb to become a permanent recording and touring band member adding a second guitar to the lineup with Davey Johnstone remaining on board. He would continue in that capacity on Rock of the Westies and Blue Moves on which he wrote the opening track "Your starter for" and co-wrote four other songs on the album. After the Bands Dissolution in 1976 Caleb along with Drummer Roger Pope were brought into the backing band of Hall & Oates at Bassist Kenny Pasarelli's suggestion. After that, He and Roger became members of the band "Troops" A Los Angeles-based funk outfit. Since 1982 Caleb has been a prominent figure in Christian worship music as well as an associate Pastor/evangelist at a church in Pasadena California.

Tim Renwick, Guitar, 1980
Tim Renwick taught himself to play electric Guitar as a teenager and has gone on to become one of the most prolific guitarists in Britain. His first professional gig was with the Jackie Lamoux band signed to the Beatles Apple Records label. His first Session job was for famous Pop Duo Peter & Gordon at Abbey Road Studios in London.
In the 1970s he was a member of the band, Quiver. Which opened for Elton on the Goodbye Yellow Brick Road tour, in 1979 he appeared on Elton's A Single Man album and the following year toured with the reformed Elton John Band as one of two guitarists augmenting the classic rhythm section of Dee Murray and Nigel Olsson. After working with Elton, he went on to work with acts like Mike and the Mechanics, David Bowie, Roger Waters' Pros and Cons of Hitchhiking Album and Tour, and Eric Clapton with whom he appeared at Live Aid. In 1987 Tim joined the post- Roger Waters incarnation of Pink Floyd's "A Momentary Lapse of Reason" tour and served as David Gilmour's deputy Musical Director in addition to his work as a Guitarist. He continued in this role on The Division Bell Album and tour. He also appeared with the re-united Pink Floyd at Live 8 in 2005. He also has recorded two solo albums.
Richie Zito, Guitar, 1980
A legendary Guitarist and producer, originally hailing from Brooklyn, New York Richie Zito was signed to Atlantic Records at the age of 15. In 1973 he moved to California and as a session musician playing on several hit songs by Diana Ross, The Beach Boys, Rick James, Donna Summer, Tina Turner, Barbara Streisand and Lionel Ritchie amongst others. He also appeared on the soundtrack for films such as Top Gun and Beverly Hills Cop. In 1974 he joined the backing band of Neil Sedaka who was signed to Elton's Rocket Records at the time and played on Sedaka's albums for the label. Through this connection he was asked to join the Elton John Band on its 1980 tour and add his Guitar parts to that years 21 at 33 album which he continued to do on 1981s, The Fox and 1982s Jump Up! After working with Elton, Richie started producing for artists including Cheap Trick, Eddie Money and Joe Cocker's cover of Randy Newman's "You can leave your hat on". In 1990 he was named "Producer of the Year" by Billboard Magazine and has since formed his own record label, Your Music America.

Fred Mandel-Keyboards, Guitar, 1984 - 90
Multi-Instrumentalist Fred Mandel was already an outspoken fan of Elton's before he ever played a show as part of the Elton John Band of which he would become a member for seven years. Growing up in Toronto, Canada, He started playing Piano at age four. His first professional gig was with Canadian Band, Lighthouse. In 1978, he joined the touring band of Shock-rocker Alice Cooper in which his bandmates included former Elton John Guitarist, Davey Johnstone and Bassist, Dee Murray. He also played in Elton associate Kiki Dee's band as well as the band, Queen. In 1979 during the recording of Pink Floyd's legendary Concept album The Wall Fred was called in by Roger Waters to record Keyboard parts for the two "In The Flesh" songs on the album, (This was done because Pink Floyd Keyboard Player Richard Wright refused to interrupt his vacation time to record, ultimately this led to Waters forcing Wright to quit the band despite allowing Wright to continue as a hired gun during the subsequent tour of the album. Wright, thus ended up being the only one of the four members to make any money from the tour due to the immense cost of the staging. In 1984 Fred was added to compliment Elton and the classic trio of Davey, Dee and Nigel, for the Breaking Hearts Tour on Keyboards and additional Guitar. Fred managed to remain with the Elton John Band during the re-structuring of both 1985 and 1988 before parting ways with Elton after the 1990 Tour.
Charlie Morgan-Drums, 1985-87, 1990, 1992-98
Drummer, Charlie Morgan's Music career began in 1973. He appeared on Singer Kate Bush's second album Lionheart with future Elton John Bandmate, Bassist, David Paton.
He then toured with a friend of Elton and collaborator Tom Robinson through whom he met Elton during a 1979 co-bill show. In the Early 80s he toured with former Rocket artist Judy Tzuke and played on the first two albums by Nic Kershaw of whom Elton was a fan.
Elton booked Charlie for sessions for the Ice on Fire and Leather Jackets albums and after dismissing the classic rhythm Section of Dee Murray on bass and Nigel Olsson on drums for a second time at the conclusion of the 1984 "Breaking Hearts" Tour, Charlie was brought on board as Elton's Full-time Drummer. The new band debuted at Live Aid in 1985 and Charlie remained in the live band through Elton's 1987 Live in Australia Album and also played on 1988s Reg Strikes Back album but was dropped for the following tour when Johnathan Moffet was brought on board by Davey Johnstone. In 1990 Charlie returned in a one-off concert and returned full-time in 1992 for "The One" Tour, Charlie returned to the Elton John Band and remained Elton's full time Studio and touring drummer until mid-1998 playing on the Made in England and The Big Picture albums. Since leaving the Elton John Band, Charlie has toured with the band "Orleans" and runs his own drum studio called Manicdrums Productions.
David Paton- Bass, 1985-1986
Affectionally referred to as "Noddy" by Elton due to his tendency to bob his head along to the Bass parts he played, David Paton started out as a lead guitarist but switched to the bass in 1968. He was a member of the band "Pilot" who had a top five hit single in the US with the song "Magic". He worked with artists such as Paul McCartney and Wings, Camel and Kate Bush as well as the famous Alan Parsons Project, led by and named for EMI Staff Engineer Alan Parsons, The Man responsible for engineering Pink Floyd's legendary Dark Side of the Moon album, David was asked by Producer Gus Dudgeon to play on Elton's Ice on Fire Album. The first song he played on was the album's best known song "Nikita", He made his debut with the Elton John Band at 1985's Live Aid Charity Concert organized by Boomtown Rats Lead Singer Bob Geldof. He would continue as Elton's Bassist thru the recording of Reg Strikes Back in 1988 but was let go before the supporting tour in favor of a new rhythm section handpicked by Newly appointed Musical Director Davey Johnstone. In 1995 toward the end of the "Made in England" Tour, Elton's then-current Bassist Bob Birch was severely injured after being hit by a bus and David was called back into duty as Elton's Bassist through the tours conclusion at New York City's Madison Square Garden. Since then, David has continued to work with the Alan Parsons Project, played Bass on The Pretender's Hit Song "I'll Stand by you". He also runs his own personal Recording studio and has released several solo albums.

Jody Linscott-Percussion, 1986-87
The only Female non-vocalist to ever appear with the Elton John Band, Braintree Massachusetts native and percussionist Jody Linscott had performed with The Who, Jackson Browne, David Gilmour, Don Henley and Paul McCartney before taking over for Ray Cooper midway through Elton's 1985-86 World Tour as well as working in tandem with Ray for Elton's Live in Australia with the Melbourne Symphony Orchestra an astonishing feat considering she was pregnant and gave birth while touring with Elton. She also played on Elton's 1986 Leather Jackets Album but Elton would probably rather you not know that said album exists.

Romeo Williams-Bass, 1988-90, Johnathan Moffett-Drums,1988-89
For his 1988 Tour, Elton wanted his band to have an R&B feeling thus in addition to three female background singers, recently appointed Musical Director, Davey Johnstone recruited an all African American rhythm section consisting of Bassist, Romeo Williams and Drummer, Johnathan Moffett, nicknamed "Sugarfoot" for his impressive Kick Drum Technique, Johnathan Moffett has played the drums since he was six years old. Moving to Los Angeles from his native New Orleans, He toured with icons such as Lionel Richie and Madonna and served as musical director for the Jackson's 1984 Victory Tour as well as recording for Peter Cetera of the band "Chicago". Bassist Romeo Williams had played and toured with some of the biggest names in soul including Aretha Franklin, Natalie Cole, the Temptations and Gladys Knight,
First appearing with Elton at an AIDS benefit in 1988 and the ensuing Support tour for Reg Strikes Back, the rhythm section of Romeo and Johnathan played on 1989s Sleeping with the Past Album and Tour.
Moffett left after the 89 leg of the tour and his predecessor on the drums Charlie Morgan returned with Williams remaining on Bass for the 1990 leg of the tour after which Elton took a year off to overcome his drug addictions. By an odd coincidence, in 1991 Johnathan Moffett was touring with George Michael when Elton appeared to sing the legendary duet of "Don't Let The Sun Go Down On Me" and ended up being the drummer on the hit track.
Williams made a one-off appearance with Elton in November of 1995 with then-current Elton John Bassist Bob Birch recovering from severe injuries.
Moffett was planned to be the Drummer for Michael Jackson's 2009 "This is It" Tour, though Jackson's tragic death resulted in that tours cancellation. Moffett is currently the drummer for Cirque du Soleils Michael Jackson Tribute show "Immortal".
Guy Babylon- Keyboards, 1988-2009
The late Guy Babylon was Elton's keyboard player and Right-Hand man for nearly two decades. After graduating from college, Guy left his hometown of Baltimore Maryland for Los Angeles. Once there he started working as a session Keyboard player and composed music for television and movies, appeared with the group Iron Butterfly and built his own home recording studio. In 1987 He won a demo contest run by Keyboard Magazine with his composition Babylon Bleu. He met Davey Johnstone around this time and when Elton appointed Davey as Musical Director prior to the 1988 Tour Davey called Guy to ask if he was interested in serving as additional Keyboardist to augment Lead Keyboardist Fred Mandel on the tour. Babylon responded affirmatively first appearing with the Band at a 1988 AIDS Benefit and performing on the following years Sleeping with the Past Album and Tour.
In 1992 on The One Album and tour Guy became lead Keyboard Player for the Elton John Band and after the departure of additional Keyboardist/Guitarist Mark Taylor became the band's sole-keyboard player. Guy worked with Davey on New Live Arrangements for Elton's songs. In addition to Keyboards, Guy did the orchestral arrangements on the song "Man" from Elton's Made in England Album in 1995.
Babylon Played on 1997s The Big Picture Album and Tour and in 2000 served as Arranger and Musical Director for Elton and Tim Rice's Musical, Aida for which he won a Grammy. He was also responsible for the arrangements on Elton's 2004 Peachtree Road album. He would play on The Captain and The Kid album and continued to tour with the Elton John Band until his tragic 2009 heart-attack induced death. Guy's legacy is carried on by his son Ben who plays Keyboards, sings and leads his own group "The Episodes" in the Los Angeles area.
Bob Birch-Bass & Vocals, 1992-2012
Born in Detroit Michigan, Bob Birch played bass, Saxophone and Bassoon in High School and after getting a degree in music from Wayne State University he briefly served a stint as a music teacher at a local school before heading to Los Angeles to become a session Bassist.
He met future Elton Bandmates, Keyboardist Guy Babylon and percussionist John Mahon who were also in the LA Session Scene at the time.
In 1991 Bob was a founding member of the Band "The Warpipes" with Elton John Band Musical Director Davey Johnstone and former and future Elton John Band drummer Nigel Olsson as well as future Elton Sideman, Vocalist Billy Trudel and then recent recruit Guy Babylon. After their first and only album Holes in the Heaven tanked the Warpipes folded but when Elton required a new Bassist for his "The One" tour in 1992 Davey brought Bob on board. Bob played Bass on the 1995 Made in England album where he earned the nickname "Mr. Perfect" for his nailing all the bass parts in only one take. Toward the end of the following "Made in England" Tour, Bob was hit by a truck in Montreal, Doctors estimated that he would never walk again. Amazingly, despite being in severe pain from the incident Bob not only managed to walk again but continued to tour and record with the Elton John Band for another 16-years before the pain became too much for him to bear in August of 2012 when he tragically took his own life.
John Jorgenson-Guitar, Pedal Steel Guitar, Saxophone, Vocals, 1995-2000
Multi-Instrumentalist John Jorgenson, a native of Madison Wisconsin, has been a professional musician since he was 14-years old. He was a founding member of the Desert Rose Band with Chris Hillman, former member of the Byrds, Flying Burrito Brothers and Stephen Stills' Manassas. During his time with the Desert Rose Band, Jorgenson was named "Guitarist of the year" by the Academy of Country Music for three straight years. He then started doing session work with the likes of Bonnie Raitt, Willie Nelson, Bob Seger, another former Byrd Roger McGuinn, Emmylou Harris and Carlene Carter with whom he performed on a Bernie Taupin- penned song called "The Rain" In 1993, Jorgenson founded "The Hellcasters" whose four studio albums were highly acclaimed, He joined the Elton John Band as a guitarist for the "Made in England" tour to help Davey Johnstone replicate the multi-tracked guitar parts on the Made in England album. Johnstone and Jorgenson released an acoustic guitar laden album called "Crop Circles" in 1998 and Jorgenson released his first solo album Emotional Savant the following year. John returned to the band briefly in May 2001 subbing for Davey Johnstone whose son Oliver had tragically died. He also appeared playing Pedal Steel guitar on the song "Turn the lights out when you leave" on 2004's Peachtree Road.

John Mahon-Percussion, Vocals, 1997-present
Growing up in Ohio, John Mahon joined the local Drum and Bugle squad and various other musical endeavors. In 1983 He moved to Los Angeles and studied Percussion at various Music Schools, in 1997 with Ray Cooper unavailable John was initially hired just as percussionist for the Elton John Band but it was quickly discovered that he was also a talented harmony singer and his voice has become a fixture in the live arrangements of Daniel and Sorry Seems to be the Hardest Word.

Jack Bruno-Drums, 1998-99
Born in Boston, Drummer Jack Bruno had been playing drums in various bands since his childhood and became the Drummer for Tina Turner in the early 1980s. For the final leg of "The Big Picture" tour with Charlie Morgan departing Musical Director Davey Johnstone invited Jack to the final touring leg of 1998-99 as well as playing Elton's special Millennium concerts on December 31st in 1999.

Kim Bullard-Keyboards, 2009-present
After the tragic death of Guy Babylon, Longtime Los Angeles-based Keyboard player Kim Bullard joined the Elton John Band. Originally from Atlanta Georgia, Kim had toured with such acts as Crosby, Stills & Nash and Poco of which he was a member for five-years, he has also worked on albums by Yes, Cheap Trick, Heart, Cher and Kenny Loggins. He has also produced several albums including that of his daughter Katy Rose, Because I Can and contributed to albums by Avril Lavigne, Glen Campbell and Kelly Clarkson. Upon being recruited Bullard prepared to learn all of Babylon's Keyboard parts in just over a month for the upcoming Red Piano Shows in Europe in the fall of 2009.

2CELLOS, 2011-2015
Croatian Cellists Luka Sulic and Stjepan Hauser collectively known as 2CELLOS caught Elton's attention by posting their performance of the Michael Jackson hit "Smooth Criminal" on youtube prompting Elton to invite the 2CELLOS to both be an opening act for his concerts and to augment the band as well with their unique Pop Cello Arrangements.

Matt Bissonette- Bass, Vocals, 2012-present
Upon the tragic death of Bob Birch, fellow Detroit Bassist Matt Bissonette joined the Elton John Band. Born to a musical family in Detroit, Matt started playing the bass at age 12. He played in various Jazz and Rock Bands through his High School years and after leaving college played with Maynard Fergusons Band and toured the world. He then joined the Disneyland Band which he describes as "One of the best Gigs I ever had". He then went on to tour with acts such as Shenna Easton, Christopher Cross, Brian Wilson and The Captain & Tennile.
In 1988 Matt and his brother Drummer Gregg Bissonette joined David Lee Roth's Band and spent two years touring and recording. In the 90s the brothers founded "The Mustard Seeds".
In addition to his duties as the Elton John Band's Bassist Matt continues to record and produce other artists.
Additional Touring Musicians and Background Vocalists Through the Years.
In addition to his core band, Elton has used several one-off session musicians and background vocalists throughout the years. The Russel Schoals Horn section was an integral part of his 1974 tour including the legendary Thanksgiving night appearance with John Lennon. Legendary Studio Guitarist Jeff (Skunk) Baxter famous for his work with "Steely Dan" and "The Doobie Brothers" appeared with the new Elton John Band at its 1975 debut at Wembley Stadium. Also for that show backing Elton on Background Vocals were Donny Gerrard and Brian and Brenda Russel all of whom were signed to Elton's Rocket Records at the time. For the 1975-76 tour Elton utilized the talents of backing vocalists Cindy Bullens, Ken Gold and Jon Joyce. Nicknamed "sergeant" after his rank during a stint in the United States Army, Jon Joyce was one of the first call Los Angeles session vocalists at the time and appeared on the Blue Moves album due to being in the inner circle of the album's backing vocal arranger Bruce Johnston. Best known for his work with the Beach Boys as Brian Wilson's Touring replacement Bruce had left the band in 1971 due to disagreements with then-Beach Boys Manager Jack Reilly's creative direction and went on to vocal arrange for other artists including Elton's classic "Don't Let the sun go down on me", featuring youngest Wilson Brother Carl and Beach Boys associates Toni Tenille and Billy Hinsche on background vocals. Johnston returned to the Beach Boys in 1978 to produce their LA Light Album. In 1979 Johnston arranged vocals on Pink Floyd's The Wall Album with Joyce among the background singers, Joyce went on to be a background singer not only with the legendary Wall Tour in 1980-81 but on the 1990 benefit re-staging by the solo Roger Waters in Berlin as well as Water's 2010-13 Multiple leg world tour of "The Wall Live". Joyce also sang on Elton's Soundtrack for The Road to El Dorado in 2000. For one concert in 1977 Davey Johnstone and James Newton Howard's band "China" served as the backing band for a one-off Elton appearence at Wembley Stadium. In addition to Davey and James The band "China" consisred of Guitarist Jo Partidge, Bassist Jo lePresti and Drummer Dennis Conway. The 1977 Wembley show also featured guest appearances by Kiki Dee on "Don't go breaking my Heart" and Stevie Wonder on piano for "Bite your lip (Get up and dance)". For Elton's 1988 tour in addition to a new Rhythm Section, three female backing Singers, Marlena Jeter, Natalie Jackson and Alex Brown added the R&B vibe Elton said he wanted. In 1989 Alex Brown departed and was replaced with Mortonette Jenkins. In 1992 for The One Album and tour, British Keyboardist/Guitarist Mark Taylor added additional textures to the band's sonic palette, Billy Trudel and Bruce Watson contributed Background Vocals to Elton's performance of Can You Feel the Love Tonight at the 1995 Academy Awards. Trudel would return as a touring vocalist from 1997 through 2000. In 2000 Guitarist/vocalist Ken Stacey and drummer Curt Bisquera came aboard for Elton's 2000 tour. Curt has since gone on to become One of the most prolific session drummers in the LA Studio scene, Stacey would remain with the band through early 2001.
Ray Cooper, Percussion, 1973-1977, 1979, 1985-87, 1993-95, 2009-Present
The "Voice of Atlanta" choir added a gospel chorus vibe to the band, On March 25th in 2007, Elton celebrated his 60th birthday with his record setting 60th show at Madison Square Garden. The Band was augmented by Cellist, Martin Tillman and the Brooklyn Youth Chorus.
In the fall of 2010 four Backing Vocalists from Elton's Album and with Leon Russel The Union, Tanya Ballum, Tata Vega, Jean Witherspoon and Lisa Stone were added to the band. Tanya Ballam left in 2011 and was replaced with Rose Stone, Sister of Sly Stone and mother of Lisa.