Beat is powered by Vocal creators. You support
Sadé Sanchez
by reading, sharing and tipping stories...
more
Beat is powered by Vocal.
Vocal is a platform that provides storytelling tools and engaged communities for writers, musicians, filmmakers, podcasters, and other creators to get discovered and fund their creativity.
How does Vocal work?
Creators share their stories on Vocal's communities. In return, creators earn money when they are tipped and when their stories are read.
How do I join Vocal?
Vocal welcomes creators of all shapes and sizes. Join for free and start creating.
To learn more about Vocal, visit our resources.
Show less
#OverloadMondays: New Releases from DJ Khaled, the OVO Clan, Diddy and more.
Here's my weekly segment #OverloadMondays, where I'm covering the past week of all new music.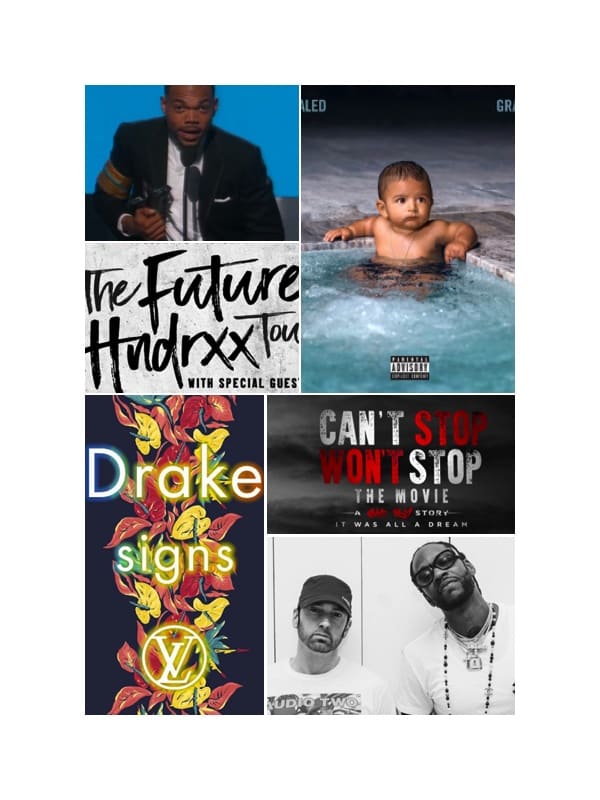 Before I start, I of course have to address the loss in Hip Hop we had to face this week. Prodigy of Mobb Deep passed away at 42 last Tuesday. The news came suddenly and was just overly shocking. I remember first hearing Mobb Deep, I was maybe 7 or 8, and I was just obsessed with the sound of it. Obviously, it took me some time to catch up to the content but I got it eventually. Their music takes you somewhere. A legend himself, the man was the voice of Hip Hop. The gritty sound Mobb Deep, of Prodigy himself, embodied New York. And he was just 42… damn. Now having to keep up with the current music, I haven't played my throwback playlist in quite some time. I can't recall last time I heard a bar from Prodigy. Salute to a real G.
Okay so here's what happened last week (6/19-25).
Singles
Drake debuted a new track at the Louis Vuitton fashion show earlier this week. Titled "Signs," the video above is set to start when the song starts. Once you hear that, rewind a bit—Majid Jordan previewed some new music too at the fashion show. Right before "Signs," we hear an untitled track (as far as we know) from the duo. An album is expected sometime this year but we'll have to wait and see.
On that OVO note, Drake remixes Partynextdoor's "Freak In You," which we all expected. Party also released his own music, "Trouble", and Dvsn released their song, "Don't Choose."
Metro Boomin dropped some new heat with Drake and Offset, "No Complaints" - Spotify / Apple Music / iTunes. The producer has been in the hot seat about dropping a new album but we'll take the new music either way. 
Dave East has been dropping track after track and performing everywhere. Along the way, he teamed up with Sos Mula in his latest joint "Home Invasion." There's also rumors of East and Kevin Durant possibly making music together.
Trae Tha Truth released a new single, "I'm On 3.0." The leading single stands at 8 minutes, featuring TI, Dave East, Tee Grizzley, Royce Da 5'9, Curren$y, D.R.A.M., Snoop Dogg, Fabolous, Rick Ross, Chamilionaire, G-Eazy, Styles P, E 40, Gary Clark Jr. Well damn, excuse me.

We've also seen releases from KGoon "Thousand," Felly "Fight the Feeling," Donae'o "Whole Life," L8Loomer and Doja Cat "Right Side," and Don Mykel "Return of the Don." We also saw the return of Mario and his new joint "Pain is the New Pleasure," and Wu Tang with "Don't Stop."
DJ Khaled's highly anticipated and star-studded Grateful is finally here. He premiered on it on his Beats1 We The Best radio show, then it became available everywhere by midnight Friday. I haven't really spent a lot of time with the album, but so far it definitely is his best work. At 23 tracks, he brilliantly chooses the right and some unexpected artists together. And with just the right beat, it's some good shit right there. Stream it via Spotify/Apple Music, cop it over at iTunes.

Another big release this Friday was Vince Staples and his second studio album Big Fish Theory. The lyricist always had a great attention to detail. He's never been shy about his observations and thankfully he shows true in this album. He tweeted: ""This is Afrofuturism y'all can keep the other shit." Review is coming soon, for now, stream via Spotify/Apple Music, but cop it over at iTunes.
Mir Fontane released a new album, Camden. He told Mass Appeal: "The album tells a story about the love/hate relationship a 24-year-old kid has with his dangerous and poor hometown. It's a mixture of personal stories and some untold stories of my peers, dead and alive." Stream via Spotify/Apple Music, cop it over at iTunes.

MC Eiht has dropped his first album in over a decade, Which Way Iz West. The Compton legend has DJ Premier as the album's executive producer. Premier even personally produced a few of the songs himself. Stream it here, but cop it at iTunes or Amazon.
Big News + Rumblings
Diddy. Puff Daddy. Sean Combs—whatever you want to call him, that guy is a genius. A mad man, but a genius. Diddy has been talking about his documentary Can't Stop Won't Stop for some time now. He had a showing where celebrities were raving about the documentary as they walked out of the theater. It debuted for the public last night via Apple Music. He's lived quite a life, so this shall be interesting. Need some motivation to jump start your day, check it out.
There were some major events at the BET Awards last night. Chance the Rapper won some major awards such as the Humanitarian Award that Michelle Obama (via video) helped to deliver. Chance gave an acceptance speech that had everybody standing up. He called for justice for those wrongly accused and all the cop killings that have been going on in the black community. The kid is only 24 years old, amazing.
We had some good performances from Bruno Mars, Mary J Blige, Xscape and more. I was also amazing to see newbies Jessie Reyes, H.E.R. and Khalid show out. Migos put on a pretty good performance and won Best Group, but later things got heated in an awkward Complex interview with the Everday Struggle team where security had to get involved and eventually they were kicked out. They weren't just after Joe Budden, apparently something went down with Chris Brown and his crew. 
But back to the show. There were also tributes for the artists we lost this past year including the recent and still new loss of Prodigy. New Edition received not just a tribute but the Lifetime Achievement Award. While Kendrick Lamar won Best Male Hip Hop Artist, Remy Ma won it for the females and in good ol' Remy fashion, she threw some jabs at her fellow nominee Nicki Minaj. This had the crowd go wild for a bit. Admittedly, the beef is getting kind of old but Remy's been entertaining to say the least. Billboard covered the top ten moments of last night, check it out.
Future announced via Twitter tour dates for his upcoming The Future Hndrxx Tour. Future will be touring across the country and making his way across the world. The tour kicks off in Milwaukee, WI July 8th, and ends in London October 23rd. Making stops in New Jersey, Georgia, and Africa along the way. Tickets available for purchase now.
Eric B. and Rakim are taking the stage together in New York for the first time in 20 years. This random gift of kindness isn't so random after all. The duo is performing in celebration of the 30th anniversary of their classic album Paid in Full. They will be putting on the special show July 7th at the Apollo Theater. Tickets are available at the box office and on their website. 
Coming Soon...
Eminem was spotted in the studio with 2 Chainz and producer Nolan Presley. New music on the way? God, let's hope.
Tyler the Creator teased new music via Instagram. "7 days"—stay tuned. Swae Lee of Rae Sremmurd took to social media as well to announce the solo project Swaecation is on the way.
Here's some actual releases dates:
We all know that the legend Hov is dropping 4:44 June 30th. Amine's debut album Good For You is slated to release July 28th. KGoon, the Montreal emcee, is dropping his debut EP, TABLES TURN, tomorrow. After receiving a cosign from N.O.R.E, things have just been going uphill for the kid. British singer, rapper and producer Donea'o has a new mixtape, sixteen, that's scheduled to drop June 30th. And Trae Tha Truth announced his next album, The Truth Part 3, will drop July 21st and is now available for pre-order.
Stay Tuned
That sums up this past week in Hip Hop. Come back next week for more.