Beat is powered by Vocal creators. You support
Azaria Brown
by reading, sharing and tipping stories...
more
Beat is powered by Vocal.
Vocal is a platform that provides storytelling tools and engaged communities for writers, musicians, filmmakers, podcasters, and other creators to get discovered and fund their creativity.
How does Vocal work?
Creators share their stories on Vocal's communities. In return, creators earn money when they are tipped and when their stories are read.
How do I join Vocal?
Vocal welcomes creators of all shapes and sizes. Join for free and start creating.
To learn more about Vocal, visit our resources.
Show less
Protest Music: Traditional and Contemporary
From "Dancing in the Street" to "F*** the Police"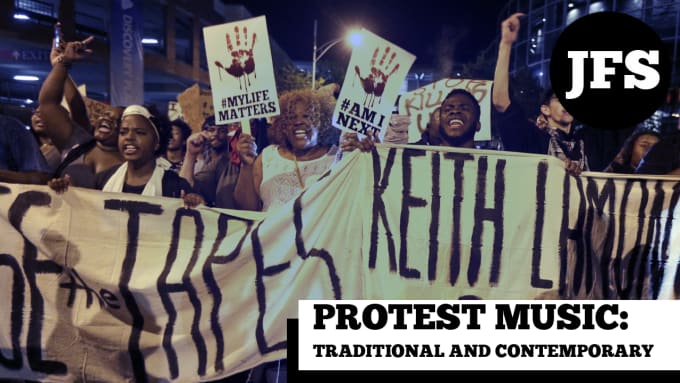 Race issues in the United States are coming to a breaking point. The number of minorities being killed and intimidated by the hands of police and other political authority figures is growing, and though this killing and intimidation is being caught on camera, there are few prosecutions.

In response to this, artists are creating protest songs that speak about these issues. Songs such as Beyonce's "Formation," Logic's "America," "Alright" and "The Heart Part IV" by Kendrick Lamar, and "This Is America" by Childish Gambino.
Protest music finds its American origins in Negro spirituals sung by black slaves beginning in the 17th century. These songs gave slaves motivation and inspired them continue on.
According to a Vox article, "Protest songs… usually fall under two major categories: Politically charged, topical songs taking issue with the government, or culturally focused songs aimed at injustices facing marginalized groups." Along with the abolitionist movement of the 19th century came songs that fit into both categories: Advocating for the end of slavery and taking issue with the politicians that had yet to make it happen.
Along with the 20th century came protest songs about the labor movement, the Vietnam War, Ronald Reagan, and of course, the Civil Rights Movement.
It is important to note that protest songs are not just those that are written to inspire protest, but can also include those that unintentionally become the sound of protest. A New Musical Express article called "Protest Music Isn't Dead—It's Just Taken New Forms" tells the story of how "Dancing in the Street" by Martha and the Vandellas became the anthem for the Detroit Riots of 1967.
Modern protest songs are much more along the lines of Billie Holiday's "Strange Fruit," a song written about the numerous lynchings of African Americans. They speak very explicitly about issues and very honestly name those in power who they believe to be at fault.
Let's take a look at some other recent protest songs.
1. "1000" by N.E.R.D
This song seeks to inspire the listener to protest. By calling the listener a hero the speaker is telling the listener that they hold the power to enact change.

2. "Don't Do It" by N.E.R.D
This song quotes a video showing the shooting of Keith Lamont Scott. The speaker discusses the fact that people may have the desire to practice civil disobedience, but no matter what there will be negative consequences because of the power and racial imbalance that exists in American society. Kendrick Lamar's verse builds on this as he discusses that we've been seeing this issues for decades and they show no signs of stopping. Though the speaker is not necessarily encouraging the listener to civilly disobey, the repetition of "don't do it" may make it seem this way.

3. "Cops Shot the Kid" by Nas
This song contains samples from Richard Pryor and Slick Rick's "Children's Story." Kanye and Nas talk from the black perspective about fearing cops and the injustice that comes along with the killing of black people. The Slick Rick sample repeats in such a way that the listener can't help but to sing along, but at the end of the song it leaves the reader questioning what they are singing along too, and if they should question what they are saying.

4. "Deathless" by Ibeyi
This song was written by Lisa-Kainde of Ibeyi as a response to being racially profiled by a police officer [clip]. The song uses snippets of what the officer said to Lisa-Kainde and repeats the mantra "we are deathless" to let the listener know that no matter what happens, they can overcome.

5. "Church/Liqour Store" by Saba (feat. Noname)
This song talks about the gentrification of Chicago. This is an issue that we've seen in urban neighborhoods for years [roll bounce clip]. Gentrification is used in order to boost property values and standards of living in certain areas, however doing so displaces the minorities that live in poorer areas. This song, specifically, talks about the gentrifying of a neighborhood to provide more alcohol and drugs, which will allow the people that live there to destroy themselves.

6. "Not My President" by OSHUN
Despite the title, Oshun is not just stating that they dislike Donald Trump, they are fed up with America's political figures in general. The speak against Trump initiatives like "the wall," but they also talk about the crack epidemic, the KKK, and they advocate for the Obamas.

7. "FUBU" by Solange
Of course, FUBU is an urban clothing line founded in 1992 by Daymond John. The name an acronym: "For Us, By Us." The clothing line was synonymous with blackness and hip-hop culture from the mid-90s to the early 2000s. The song uses moments that are usually used against black people in order to empower them.