Beat is powered by Vocal creators. You support
Paul Levinson
by reading, sharing and tipping stories...
more
Beat is powered by Vocal.
Vocal is a platform that provides storytelling tools and engaged communities for writers, musicians, filmmakers, podcasters, and other creators to get discovered and fund their creativity.
How does Vocal work?
Creators share their stories on Vocal's communities. In return, creators earn money when they are tipped and when their stories are read.
How do I join Vocal?
Vocal welcomes creators of all shapes and sizes. Join for free and start creating.
To learn more about Vocal, visit our resources.
Show less
Review of The Blue Dahlia's 'La Tradition Américaine'
Non-Pareil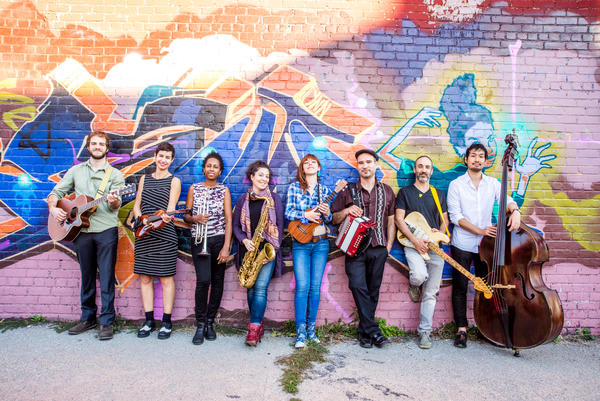 I had lunch a few days ago with my niece Dahlia—better known to you, the world, as The Blue Dahlia. In addition to her smiles, her laughter like summer rain, and her sparkle, she left me with a copy of her new album, La Tradition Américaine. I'm going to review it here. (Right, she's my niece. If you think that might bias my review, c'est dommage.)
First, Dahlia sings most of the songs on the album in French. My main experience with French female voices are The Singing Nun and Edith Piaf. The Blue Dahlia is much closer to Piaf. Really. And she sounds so French, that even when she sings in English, she sounds to me like what Piaf would sound like singing in English.
As for the songs on the album: they're all great, in different but interlocking ways. I'll confine myself here to the some of the highlights for me.
The title track, "La Tradition Américaine," is at once a defiant statement, a sheer pleasure to hear, and an inspiration. It's a call to action and rebuke to the Hitler we currently have in the White House (my words, not hers). In addition to a sultry, Piafian voice, this track somehow mixes klezmer with a world-music ambience, trenchantly, sweetly-as-daggers appropriate for a song about immigration. (And, it brings back memories of my bar mitzvah.)
But the signature track on this remarkable album could turn out to be the second track, "I See Trees Differently," appearing on the album at least two or three times, in different forms. (Dahlia has a way of weaving her themes into different tracks, pulling them all together, and getting you to sing to yourself an earlier track with a connection to the one currently in your ears.) This song has a quietly brilliant lyric, Dahlia singing in breathy low English, and bayou violins (later in the album, Dahlia goes from creole to reggae on this song).
Other notables that I can't get out of my mind: "Blah Blah," a great airing of the inner mind, which reminds me of some of the songs on The Beatles' White Album; "Your Love," beautiful and about just what it sounds like, with especially good voice and backing horns (the band on this album, by the way, is superb); and "Plantation," a calypso song in French (calling Harry Belafonte), about coconuts, bananas, and all the rest, and Dahlia polishing it all off with some scat riffs that Louis Prima would've been proud of.
La Tradition Américaine, by the way, is a great summer album, but the kind of summer that lasts all year long. The Blue Dahlia is moving to Paris. But you can find her final (for now) American tour dates in the New York area, over here. Hey, I'll likely be at one of these—if you see me, come over say hello!
And get the album as soon as it's available (release date is August 11 - but you might be able to get the songs here right now). If you have any kind of ears, trust me, you'll love it.
Here's a taste with a video of Dahlia singing her bluesy "Reasonable" from the album with one of the stand-out band members, George Saenz.
"Reasonable" - by the Blue Dahlia, with George Saenz