Beat is powered by Vocal creators. You support
Carlos Gonzalez
by reading, sharing and tipping stories...
more
Beat is powered by Vocal.
Vocal is a platform that provides storytelling tools and engaged communities for writers, musicians, filmmakers, podcasters, and other creators to get discovered and fund their creativity.
How does Vocal work?
Creators share their stories on Vocal's communities. In return, creators earn money when they are tipped and when their stories are read.
How do I join Vocal?
Vocal welcomes creators of all shapes and sizes. Join for free and start creating.
To learn more about Vocal, visit our resources.
Show less
The 'List: 1977
We look back at 40 years of the best in pop music.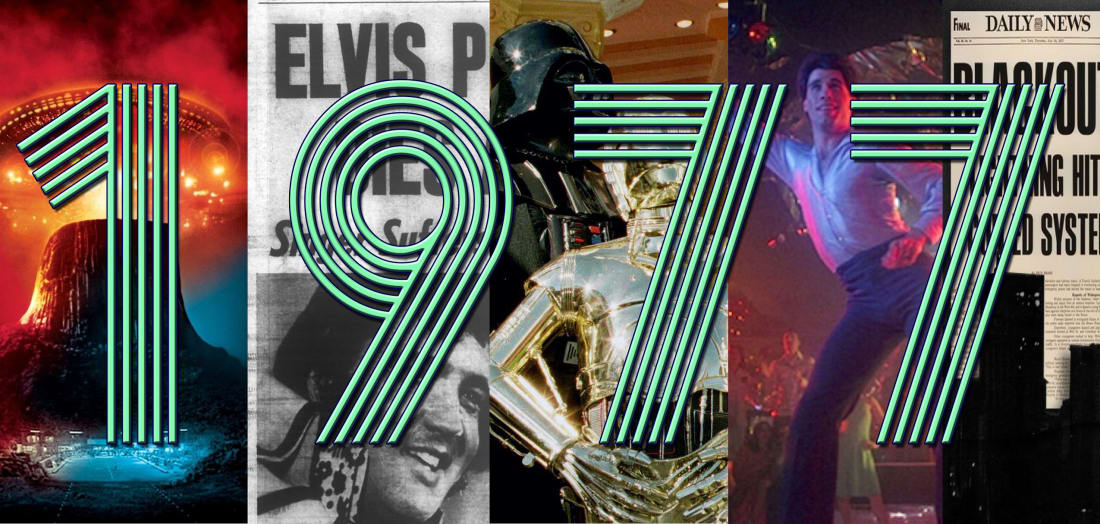 Hello one and all.
Like the Tony Manero (John Travolta) character from Saturday Night Fever, I grew up in Brooklyn, NY and while my recollection is pretty fuzzy at this point, I do remember going to the supermarket on Thursdays with my mom to buy groceries. I remember going to kindergarten at a local head start nearby. I remember my mother casually announcing that I had a baby sister on the way and I do remember sitting in front of the television enjoying everything from The Hardy Boys/Nancy Drew Mysteries, The Six-Million Dollar Man, The Donny & Marie Show, The Captain & Tennille Show and wall-to-wall segments regarding the soon-to-be-blockbuster smash, George Lucas' seminal space-opera, Star Wars.
Another memory I want to share is the first 45 RPM record I remember hearing (that's hearing — not buying). That was Hardy Boy, Shaun Cassidy (son of Shirley Jones) and his pronoun-heavy cover version of the Crystals' 1963 hit, "Da Doo Ron Ron." It was one of the biggest radio smashes back then and was heard constantly by me in my mom and stepfather's apartment. I would also discover artists as diverse as Andy Gibb, Barry Manilow, Manfred Mann's Earth Band, Linda Ronstadt, James Taylor, Debby Boone, Foreigner, ABBA, The Bee Gees, Donna Summer, and Carly Simon. The fact that Jimmy Carter was our US President, our city endured a scary citywide blackout, and that women were being terrorized by a gun-wielding lunatic christened The Son of Sam, was blissfully ignored by my then five-year-old brain. And also, the death of the legendary King of Rock & Roll at the shocking age of only 42 years — Elvis Aaron Presley.
The year... was 1977.
Man! 40 years have gone by and it seems and feels almost like yesterday. Part of the joy of making this 'list (this one's all me; I gave my buddy Oates off on this) is a chance to go on a musical time machine and remembering the soundtrack of my life back then. Here are at least 15 of the best tracks I remember hearing or finally catching up with years later. Before that — a bit of a mental montage.
Facts:
Punk music was burgeoning and already at odds with disco.

Women were integrated into the Marines.

Anita Bryant's anti-gay crusade became the catalyst for the Gay Rights Movement.

The Apple Computer was introduced.

A blackout in NYC lasted for more than a day, causing riots and looting.

Elvis Presley died in August. The nation mourns.

David Berkowitz a.k.a. The Son of Sam terrorized all of NYC.

Television:
Shows such as The Six Million Dollar Man, The Bionic Woman, Charlie's Angels, The Hardy Boys/Nancy Drew Mysteries, Happy Days, Laverne & Shirley, Starsky & Hutch, All In The Family, The Jeffersons, M*A*S*H, Kojak, Good Times, Alice, Wonder Woman, Rhoda, What's Happening, and Three's Company were all ratings winners.

The television mini-series Roots was also a ratings smash and earned massive critical acclaim.
Movies:
Star Wars (the BIG one!), Rocky, Smokey & the Bandit, Annie Hall, Looking For Mr. Goodbar, The Spy Who Loved Me, Exorcist II: The Heretic, The Goodbye Girl, The Hills Have Eyes, and High Anxiety were all hits at the box office.

Along with Star Wars, Saturday Night Fever and Close Encounters of the Third Kind were also the game changers of the year.
And now, without further adieu... my favorite hits of the year!
1977 in Music:

15. "Rich Girl" — Daryl Hall & John Oates
Their first number one smash that gave us a taste of their juggernaut to come in the 1980s. It's a simple, short tune that was initially written about a man.

14. "Somebody to Love" — Queen
Following their smash hit, "Bohemian Rhapsody," in 1976, this four-man band fronted by the late, greatest vocalist, Freddy Mercury would score another hit with the same operatic-rock style that gave them their iconic smash. The song also added a tinge of gospel to the chorus. It went Top 20, but still became a much loved track.

13. "Trans-Europe Express" — Kraftwerk
This German rock band had a hit without the benefit of radio. The train-churning drumbeat and its pseudo-disco-esque feel made it one of the best records of the year. The hook was also borrowed by Afrika Bambaata and the Soul Sonic Force for their rap hit, "Planet Rock."

12. "Don't Leave Me This Way" — Thelma Houston
Disco hits were a dime-a-dozen that year, but this mournful Harold Melvin & the Blue Notes disco hit got a second wind via this Mississippi native's cover which went to number one on the pop, soul, and the disco charts.

11. "Feels Like The First Time" — Foreigner
As debuts went, it would be gangbusters for this US/UK, NYC-based rock band. This balls-to-the-wall rocker signaled their arrival and the hits kept coming and got even bigger in the 1980s, with "Waiting For a Girl Like You," "Urgent," and "I Want To Know What Love Is."

10. "Blinded By The Light" — Manfred Mann's Earth Band
A progressive rock classic that benefited from a strong Moog-synthesizer opening, Chris Thompson's killer vocals, even "chopsticks," and the fact that it was a song written by the legendary Bruce Springsteen. It had also the most misheard lyric in the the world, with the word, "deuce," misinterpreted as "douche."

9. "Sir Duke" — Stevie Wonder
From his iconic Songs In The Key of Life double-LP. A sexy disco-ey classic from the Wonder Man — a tribute to the greats: Ella Fitzgerald, Louis Armstrong, Count Basie, Glenn Miller, and the song's title referred to, of course, Duke Ellington.

8. "Boogie Nights" — Heatwave
A disco classic that united every great musician from the US, UK, Germany, Spain, Czechoslovakia. The song hit number two and was written by the late Englishman Rod Temperton, who would write classic hits for Luther Vandross, Michael Jackson, Michael McDonald, and George Benson.

7. "I Feel Love" — Donna Summer
Off the album, I Remember Yesterday, the late iconic Disco Queen along with mega-producer, Giorgio Moroder, scored a Top 10 smash and took us all to the future with this pulse-driven, bass-thumping, disco classic!
6. "You Make Loving Fun" — Fleetwood Mac
One of many hits off their groundbreaking Rumors album, but this one is my absolute favorites. Christine McVie sang lead and wrote this gem. The bass line and beat help make it stick (at least, I think so).
5. "Da Doo Ron Ron" — Shaun Cassidy
Just a personal preference of mine. The star of The Hardy Boys gave me my first taste of pop music, despite being a rather raspy cover version of a girl group song. Eh — it WAS the 70s, you know!
4. "Dancing Queen" — ABBA
This über-famous Scandinavian pop quartet would score their first number one smash here in the US. Played in proms, bar mitzvahs, and just about any discotheque in the four corners of the globe.
3. "How Deep Is Your Love" — Bee Gees
The first song was a sweet ballad off the now multi-diamond soundtrack album, Saturday Night Fever. The Bee Gees would continue their hot streak of number one smashes that would continue on with "Stayin' Alive" and "Night Fever." 
2. "Hotel California" — Eagles
A cryptic rock ballad by one of the most influential rock/country bands in the US about a supposed hotel with the power of influence. Many interpretations of the song range from the occult and even obsession. Personally speaking, I believe its about the power of addiction and vice. Went to number one and kept the band's staying powergoing before calling it quits in 1980.

1. "I Just Want To Be Your Everything" — Andy Gibb
The late singer, a then 20-year-old and the youngest Gibb sibling (The Bee Gees) scored his first number one out of the box with this sweet, teen-hood mid-tempo disco ballad with his famous older brothers adding the patented harmonies. Written by older brother, Barry. My absolute favorite of the year.

A bonus...
"You Light Up My Life" — Debby Boone
Okay, fine. Maudlin, syrupy, sappy, saccharine-y, sugary... all the worst adjectives to describe one of the biggest smash hits of the decade; and YET it stuck. So... here it is. Enjoy, or not!

And one more...
"Undercover Angel" — Alan O'Day
His one and only number one smash gets a major honorable mention by me. It's a sexy, disco-driven smash from the guy who gave us the classically cryptic Helen Reddy ballad, "Angie Baby." This one is about a mysterious lover the singer helps to find his sexual mojo. Let me be blunt: it's about masturbation. Hmmm... again — it was the 1970s! "I say, whaaaaat, you say whooooo-ey! I say all right...!" You get the idea!
Thank you all. The next 'list is pending...