Beat is powered by Vocal creators. You support
Carlos Gonzalez
by reading, sharing and tipping stories...
more
Beat is powered by Vocal.
Vocal is a platform that provides storytelling tools and engaged communities for writers, musicians, filmmakers, podcasters, and other creators to get discovered and fund their creativity.
How does Vocal work?
Creators share their stories on Vocal's communities. In return, creators earn money when they are tipped and when their stories are read.
How do I join Vocal?
Vocal welcomes creators of all shapes and sizes. Join for free and start creating.
To learn more about Vocal, visit our resources.
Show less
The 'List: The Carpenters
45 Years of the Best by the Best Soft-rock, Brother/Sister Feel-good Duo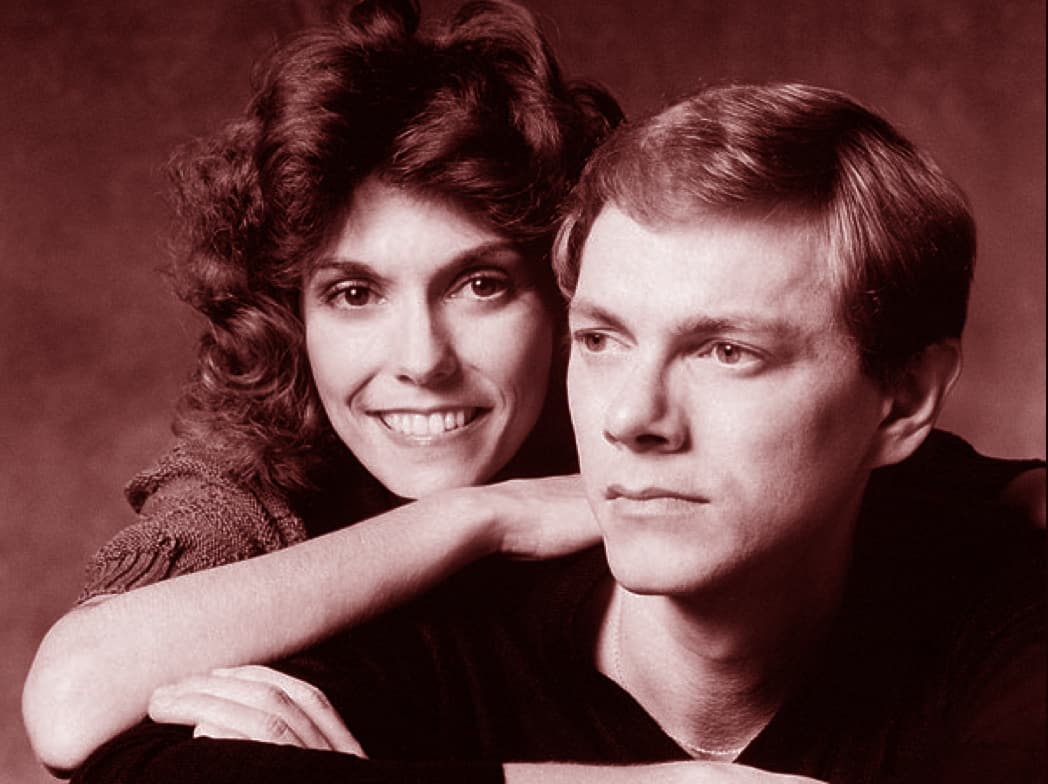 Hello one and all.
The early 1970s saw the advent of a musical genre commonly known as "soft-rock," which also had the distinctly pleasant nickname of "yacht rock," then made more complicated with the name "adult contemporary." As heavy metal and hard rock were burgeoning even before disco made many put on their boogie shoes and step to the dance floor, one such act was a Southern California brother-and-sister team who put the genre on the map, legitimized it, and made it a force to be reckoned with.
Richard Carpenter and his sister Karen were the voices of a genre that probably began with 1960s artists as diverse as Simon & Garfunkel, Harry Nilsson, The Association, Crosby, Stills, Nash & Young, Neil Diamond, B.J. Thomas, and Anne Murray, to name a few. The two musical siblings were born in New Haven, Connecticut and moved to Downey, California in the early 60s. Richard played piano and Karen sang lead vocals and was a rare female drummer. 
Karen's contralto vocals were the hook. They had their inception hit in 1969 with their Beatles cover 'Ticket to Ride," but a song by Burt Bacharach that no one seemed to want to record, was given to them to record, despite they themselves uncertain of its potential impact. Trumpeter and A&M record mogul Herb Alpert was certain that this duo could make it a hit. A great call indeed as "Close to You" became a worldwide smash and put them on the map, earning them awards, extreme fame, massive hits, and making them the most successful pop group of the entire decade.
Their formula was built on their sunshine-y, sweetly melodic, feel-good harmony style as Karen was the clear star of the group with her wide, engaging smile and soulful, knowing eyes; but her velvety, nearly-flawless vocal delivery was always what made them a group with strong longevity. Yet, they also received a backlash as many soft-rock artists emerged and they saw their genre pigeonholed as "maudlin," "middle-of-the-road," "saccharine," "easy-listening," or "white bread" music. As disco and hard rock became even stronger forces in 1970s music, they saw their popularity wane somewhat in the closing of the decade.
It was an even sadder fact that behind the sunshine-y smile, Karen Carpenter was hiding a sad fact. She was suffering from anorexia nervosa; an eating disorder that makes the victim eat less to none at all, and years of the disease had taken a toll on her. On February of 1983, she had passed away from cardiac arrest caused by the disease. She was mourned, revered, and respected by many in pop music, from all genres that year. Her brother and she would posthumously receive a star on the Hollywood Walk of Fame. Richard would continue to record music, produce and arrange and write music for other artists. His many interviews are always glowing about remembering his iconic sister and their contributions to pop and rock music.
A sad and strange fact in that as of 2017, they have not been inducted into the Rock & Roll Hall of Fame. Here's a list compiled by me and my buddy, Calvin "Oates" Cherry.
Cherry Picks:
10. "Touch Me When We're Dancing" (1981)
This sweet ballad was their final top 40 hit that managed to hit the top 20. At this point, no one was aware of the extreme weight of Karen's illness and its toll, although it didn't seem to affect her vocal performance on the track.

9. "Calling Occupants of Interplanetary Craft" (1977)
With the interest in UFOs and science-fiction growing in the 1970s, the duo had their first attempt at progressive rock with this cover of the Canadian rock band Klaatu's 1976 space opera hit. While it scored them another top-40 hit, it didn't exactly earn them new fans and didn't put them in the "successfully tried something new and succeeded" stratosphere. The song was referred to as "The Recognized Anthem Of World Contact Day."

8. "Goodbye to Love" (1972)
Rock groups and artists can thank the Carpenters for infusing an electric guitar into one of their most popular soft-rock hits; making it one of the early examples of a "power ballad." It was the late session guitarist Tony Peluso who added the defining guitar chords.

7. "Hurting Each Other" (1972)
A soulful 1960s-style pop hit was originally credited to Jimmy Clanton, but other artists and acts such as Ruby & the Romantics and Rosemary Clooney had also recorded the song. It would be the Carpenters' version that would be the most successful, peaking at number two in the year of this writer's birth.

6. "Rainy Days and Mondays" (1971)
A somber song with very little bells and whistles that adds a harmonica to the mix. It's one of Karen C's most flawless vocal performances and one of the duo's many signature hits.

5. "There's a Kind of Hush (All Over the World)" (1976)
While not often known for more up-tempo hit recordings, they did score a few peppier hits in their day. Their 1975 rendition of the Marvellete's "Please Mr. Postman" would be their last number one smash hit, followed by "Only Yesterday;" a rare faster ballad. But their cover of Herman's Hermits' 1967 hit has been a favorite of mine and proved that they could make an occasional toe-tapper when they wanted to.

4. "We've Only Just Begun" (1970)
This beautiful ballad was another signature song that made them a staple at weddings. It was also one of many songs to be used in television commercials, most particularly, a popular commercial for Crocker Bank. The theme in question? What else? A wedding. Was also used cleverly in the Stephen King horror flick: "1408."
3. "I Need To Be In Love" (1976)
One of their lesser-popular ballads that gave them a hit streak, but as the 1970s progressed, disco and hard rock began ruling the airwaves and sweet, ballad music began to become less popular; although, that didn't stop artists like Seals & Crofts, Barry Manilow and England Dan & John Ford Coley were racking up hits in the same Carpenters vein, and paved the way for 1980s artists like Air Supply and Christopher Cross. Never strays from the tried-and-true Carpenters formula, but is still a winner.

2. "Top of the World" (1973)
Their second number one smash was already a stateside hit by country music star Lynn Anderson and thus prompted the duo to release their version. One of but a few pop/country crossover hits and another triumph for the duo.
As if there was any doubt...
1. "(They Long to Be) Close to You" (1970)
Richard's lilting piano sets the tone. Karen's silky voice enters and we're in. Once the orchestra strings, bass and slow percussion hit, we're in heaven. This was the first hit that introduced us to the duo and it set the precedent for pure music perfection. Other artists have attempted the impossible — crafting the perfect pop record. This one is a true classic; and interesting that it began as an orphan song that got passed around from artist to artist with no one wanting to record it. Dionne Warwick was one of but a few artists who recorded the song. After the song's immense popularity, many cover versions emerged, but this is the one that will always be remembered.

Until next time.

Karen Carpenter 1950-1983 (R.I.P)