Beat is powered by Vocal creators. You support
Kimberly Holcombe
by reading, sharing and tipping stories...
more
Beat is powered by Vocal.
Vocal is a platform that provides storytelling tools and engaged communities for writers, musicians, filmmakers, podcasters, and other creators to get discovered and fund their creativity.
How does Vocal work?
Creators share their stories on Vocal's communities. In return, creators earn money when they are tipped and when their stories are read.
How do I join Vocal?
Vocal welcomes creators of all shapes and sizes. Join for free and start creating.
To learn more about Vocal, visit our resources.
Show less
Theory: '...Ready for It?'
A Look at Taylor Swift's 'Reputation'
Many theories are going around about Taylor Swift's new music video "…Ready For It?" It's safe to say that Swift is keeping to the theme of herself versus her past, as shown in her music video "Look What You Made Me Do." While many focus on the minor details of the "…Ready For It?" video, for example Swift's dating life (like there's nothing else interesting about her), I will focus on one thing: Taylor in the glass box. I have seen many theories where Taylor in the box is how the media sees her, but it goes even further than that. The glass box takes us through each era of Swift's career–Taylor Swift, Fearless, Speak Now, Red, 1989, and Reputation. Let's take a closer look.
The Beginning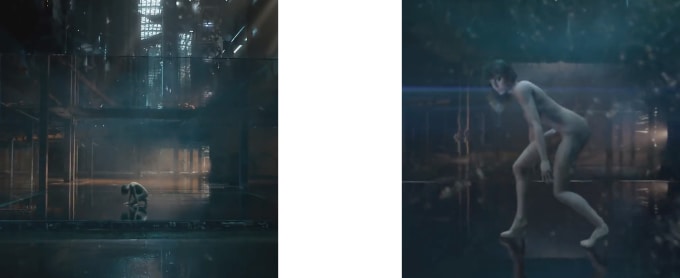 At the beginning of the video, we see a "nude" cyborg Taylor kneeling in the middle of the glass box before standing up and facing a black-cloaked Taylor (which I will refer to as Reputation Taylor). Reputation Taylor stands outside of the glass box, reviewing her past self and how the media looks at her. Cyborg Taylor standing up from a kneeling position represents the birth of Taylor Swift's career and, ultimately, her reputation.

'Taylor Swift'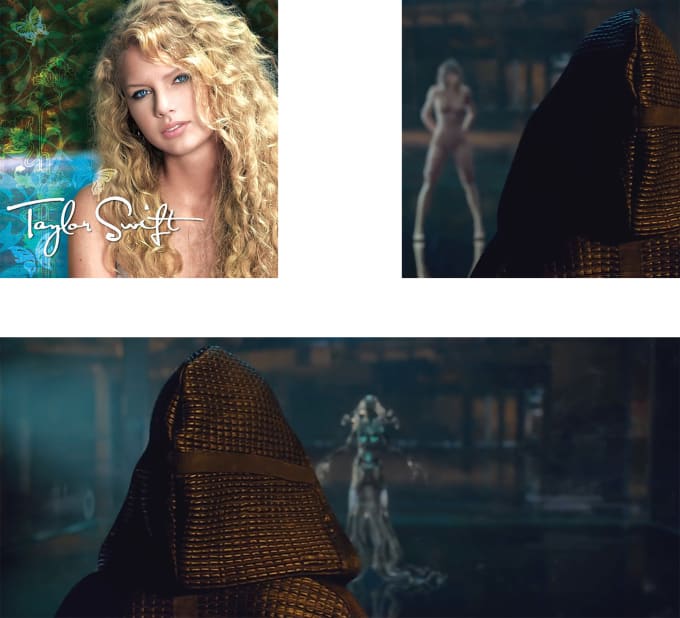 Cyborg Taylor represents the innocence of Swift when she first started her career. With her debut album Taylor Swift coming out in 2006, Swift quickly became the innocent, hopeless romantic. She wasn't known for her relationships, or "serial dating," as some might call it. She was just the girl next door finding her place in this world.

As Swift became more popular, the media started corrupting her image by labeling her "culturally red," especially after "Picture to Burn" made a gay joke. This is shown as Cyborg Taylor is covered in tentacles (snake-like limbs).
Trying to remain herself (the innocent, hopeless romantic), Swift ignored the reputation the media set for her, just as Cyborg Taylor armors up against Reputation Taylor.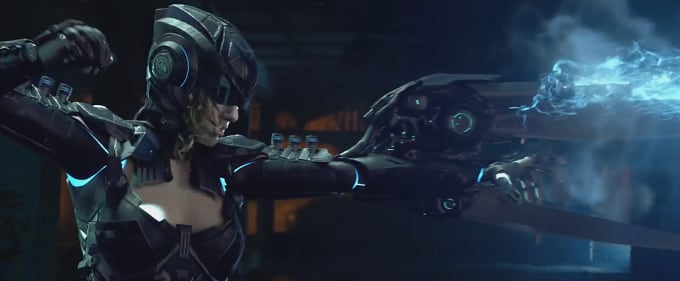 'Fearless'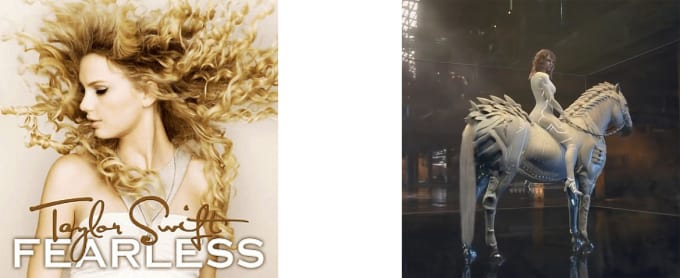 With Fearless coming out in 2008, Swift stepped up her game while continuing to tell stories about her relationships through music. The image of the white horse Cyborg Taylor is seen riding references the Fearless era, simply because of her song "White Horse." No big surprise there. The most interesting part about this depiction, though, is that the horse itself armors up, just like Cyborg Taylor. This shows that Swift continued to fight against the media as she became even more of a celebrity. In fact, she clapped back at the media during her SNL monologue song in 2009, while making fun of herself, her dating life, and the Kanye incident at the 2009 VMAs.

'Speak Now'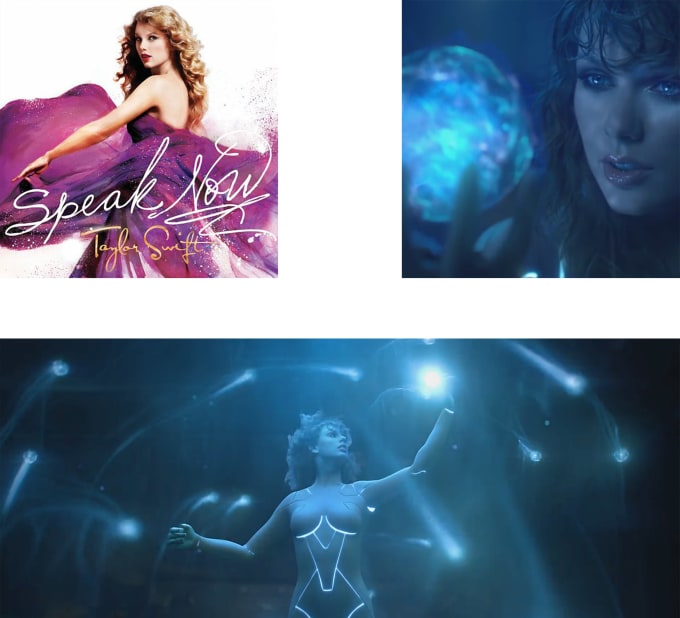 The peak of Swift's country career began when Speak Now came out in 2010. This was a huge moment in Swift's career because this was the first album she had written completely by herself, and it proved to be a hit. This was truly an enchanting time in her life, from Grammy wins and nominations to sold out concerts. Thus, Cyborg Taylor floating with blue like orbs and streaks represents the Speak Now era of Swift's career. Her major brand for this time was "Wonderstruck" and "Enchanted." As you can see in the pictures above, both Cyborg Taylor and Reputation Taylor are awed by this era. But the media was not. The media thought Swift was fake and a little too willing to play the victim, especially performing a song in reply to Kanye West's VMA interruption.

'Red'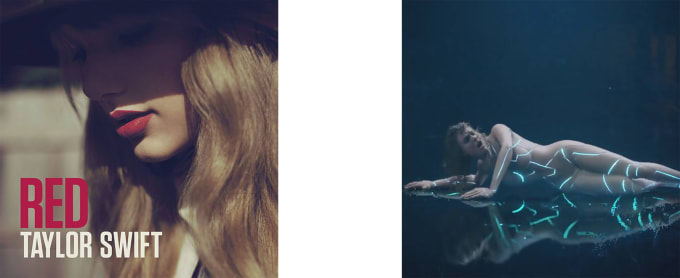 With Swift's continuing fall in the media, she found herself trying to figure out who she was again. She had dominated in country music, so she had nowhere else to go. All she could do was expand herself into other areas. Because Swift did not feel like she was a country artist anymore, she wanted to explore other genres, which gave the world Red in 2012. Red included country, pop, rock, and dance songs, an album that Swift calls a "patchwork quilt of different sounds and different emotions." By taking this risk, Swift fell short of Album of the Year at the Grammy's, realizing that having a cross-genre album may have been her downfall. This is all shown in the video as Cyborg Taylor falls to the ground, which also resembles Red Taylor lying on the ground in the video "I Knew You Were Trouble."

'1989'
1989 was Swift's breakout into the pop genre in 2014. She completely freed herself of country and revamped herself as a pop artist. This is depicted in the video as Cyborg Taylor stands with her hand in the air and lightning striking all around, energizing herself. 1989 is probably the biggest clap back to the media, as well (at least until Reputation was announced). This can been seen in the video when Cyborg Taylor focuses all of her energy and attacks the glass standing in-between her and Reputation Taylor.
"Shake It Off" and "Blank Space" in particular called out the media on all of the names she has been labeled–a serial dater and insane. While it is clear that Swift is making fun of the media, she was still criticized for these songs and music videos. To the media, the video for "Shake It Off" made Swift a racist and "Blank Space" made her a psycho. It seemed like anything Swift did, she wasn't going to win.
'Reputation'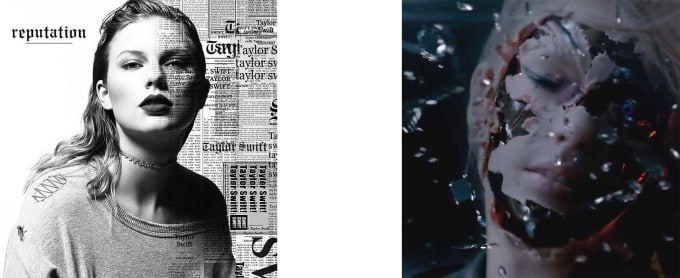 It's a new era for Swift, and it shows as Cyborg Taylor breaks the glass box, destroying Reputation Taylor. Through this "death," we can see Reputation Taylor is also a cyborg, proving that the media (not Swift) has built Swift's reputation. Cyborg Taylor then proceeds to climb the stairs and stand tall at the top. Reputation came out on November 10th, 2017, and Swift has already broken many records with singles like "Look What You Made Me Do," proving that she is still on top despite what the media has done to her image. Swift is ready to ditch the reputation and just be herself as the Reputation era kicks off. Are you ready for it?