Beat is powered by Vocal creators. You support
Dakota Thomas
by reading, sharing and tipping stories...
more
Beat is powered by Vocal.
Vocal is a platform that provides storytelling tools and engaged communities for writers, musicians, filmmakers, podcasters, and other creators to get discovered and fund their creativity.
How does Vocal work?
Creators share their stories on Vocal's communities. In return, creators earn money when they are tipped and when their stories are read.
How do I join Vocal?
Vocal welcomes creators of all shapes and sizes. Join for free and start creating.
To learn more about Vocal, visit our resources.
Show less
Worst to Best Freshmen 'XXL' List 2019
Rating this year's 'XXL' freshmen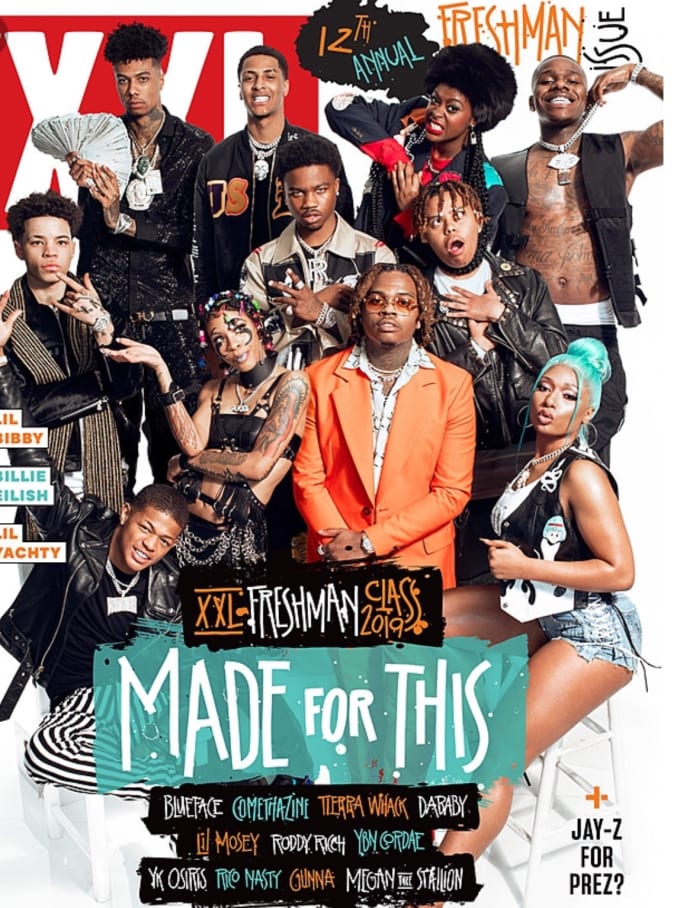 XXL is a very popular and influential hip hop magazine established in 1997. Starting in 2008 the magazine began to release its annual freshmen list, that contains 10 upcoming rappers. Some rappers who have appeared on the list are Kendrick Lamar, J.Cole, Schoolboy Q, Chance the Rapper, and many more. Each year, prior to the release of the freshmen list, rappers are seen on YouTube pitching themselves and giving the fans a reason to choose them as a XXL freshmen. While many rappers have tried to join the list others have declined it such as Lil Skies, Nicki Minaj, and ASAP Rocky. I've seen a lot of videos of people eating each artist on the cover so I thought I'd weigh in on the 10 artist that were chosen, and rank them worst to best. 
11. BlueFace
22 year old BlueFace gained popularity in late 2018 with his hit "Thotiana," which has been remixed by Cardi B and YG. Both of the remix's videos have amassed millions of views, and the rapper has gained quite a following. In my opinion he's the worst rapper on the freshmen list because he's not on the list for his off beat rapping abilities, but simply because he's popular. With 4.5 million Instagram followers that see him post everyday, a striking appearance with his out of the box tattoos, to me BlueFace seems more like a public figure who raps, rather than a rapper. I don't believe he's serious about rapping, no matter how many interviews he goes on, but who knows maybe this year he will prove me wrong. 
10. Lil Mosey
Lil Mosey is a 17 year old rapper who got recognized when he released his song "Noticed," which peaked at 80 on the billboard charts. He has a very different singing rap style that is apparent in all of his songs. Like BlueFace I believe Lil Mosey wasn't chosen because of his rapping or singing, and more so because he has a big audience and attracts a lot of people. I do think he is serious about rapping, but he is only 17 and definitely needs some time to grow and gain more ideas for his music. I think that's the problem with this day and age, artist put out a hit song before they're able to really grow in music and reach their full potential. Nevertheless "Noticed," is catchy, but it is the only song I can stand listening to by him. 
9. Comethazine
Comethazine is a 21 rapper from St. Louis who came into spotlight with songs like, "Bands," and "Walk," which gained him a huge following. He's been making music since his sophomore year in highschool and is signed to Alamo Records, along with Ski Mask The Slump God, who was a XXL freshmen last year. I became familiar with him because he has four genius verified videos where he explains his lyrics. Comethazine's music isn't for me, with his many blunt lyrics and lyrics about blunts. I have to say he is great at making catchy hooks that get stuck in your head, and some of his lyrics are a little funny. Otherwise each song sounds the same, in regards to subject matter, but he says he started out as a lyricist so maybe he plans to be more lyrical in the future. 
8. YK Osiris
YK Osiris has been going viral since he uploaded his "I'm next freestyle," to YouTube in 2018. Since then he's released many other songs that had gained him more of a following. YK Osiris really confuses me. Actually if you look him up he doesn't come up as a rapper, but as a musical artist and that makes perfect sense because in his song "Worth it," where he sings beautifully, I never thought of him as a rapper, but an R&B singer. I guess I need to stop putting him a box because he seems to want to both. I personally enjoy him singing more than I do rapping, and that's why I was confused as to why he was on this list. I hope to see him in the future be marketed as a singer because he does have amazing vocals that he showed a glimpse of in his freestyle. 
7. Roddy Rich
Roddy Rich is a 20 year old rapper from Compton, California, who is signed to Atlantic Records. In 2028 he released his mixtape Feed da streets II, which peaked at number 67 on the billboard 200 chart. This year he was featured on the late Nipsey Hussle's single, "Racks in the middle," which is probably one of my favorite songs by Roddy. I think his music is good I won't be listening to it everyday, but it is good. He really has a nice sound and vibe to him, and I hope to see him release his debut album. 
6. Gunna
Gunna is a 26 year old rapper and singer from College Park Georgia. He is signed to Young Thug's record label YSL Records, and has frequently collaborated with Young Thug and Gunna. Last year Gunna released two projects one being Drip season 3 and his collaboration with rapper Lil Baby Drip Harder. He then went on to drop "Drip or Drown" too this year. I don't listen to Gunna regularly, but when one of his songs comes on it is fun to listen to. One of my favorite songs by him has to be "Drip too hard," featuring Lil Baby. Another thing I think I like about Gunna is his music videos and how they are full on productions. I just watched his video for "Baby Birkin," which features model Jordyn Woods. The women aren't just shaking their asses, and they'd beauty is really highlighted in a different way from most videos. 
5. Rico Nasty
Rico Nasty is a 22 year old rapper from Maryland who is signed to Atlantic Records. Rico gained notable attention when she released her single, "Hey Arnold," which was later remixed by rapper Lil Yatchy. After her 6th mixtape she got signed, and really began to pave her way in the rap game. She just recently dropped her collaboration with producer Kenny Beats Anger Management. She has a very loud and hard hitting rap style that makes you want to rap along and I love it. She recently released a single with rapper and singer Doja Cat called "Tia Tamera," which is a great song. Another thing about Rico Nasty that I love is her style and overall presence, she never disappoints with her bright lipsticks and range of hairstyles. 
4. DaBaby
DaBaby is a 29 year old rapper from Ohio, who has become the topic of discussion this year since releasing his album Baby on Baby with his hit single "Suge." The song peaked at number seven on the billboard hot 100, and DaBaby performed it at the 2019 BET awards. At first when I listened to DaBaby's music I wasn't really impressed, but then I heard his feature on J.Cole's "Under the Sun," and my mind quickly changed. His lyrics are funny and I do enjoy listening to him. I also watched his freshmen cypher, and he stole the show without even needing a moment to take a breath. 
3. Meg The Stallion
24 year old rapper Meg the Stallion hasn't disappointed anyone since her release of her album Tina Snow in 2019. Her hit single "Big ole Freak," which peaked at 65 on the billboard hot 100. Speaking of hot, she recently released her debut mixtape Fever, under her label 300 entertainment. The album has great collaborations between Juicy J on "Simon Says," and "Cash Sh*t," which features fellow XXL freshmen DaBaby. Meg doesn't hold anything back and that includes her lyricism and confidence. She has a great year so far from performing on Jimmy Fallon and doing amazing freestyles. Anytime I play a song by Meg my mood changes for the better and her confidence transfers over to me. I can't wait to see more from her in the future. 
2. YBN Cordae
Ybn Cordae is a 21 year old rapper from Raleigh North Carolina. He is part of the rap ensemble YBN, alongside YBN Nahmir and YBN almighty Jay. If I'm not mistaken his album The Lost Tapes is to come this week, but other that he has released multiple singles that are amazing lyrically. YBN Cordae might fall into the category of "conscious rap," and that's what I love about him. His music really has substance and I'm sure I'm not the first one to say this, but he is like a miniature J Cole. One of my favorite songs by him isn't actually a song, but rather his performance with R&B singer H.E.R. at the 2019 BET awards. I can't wait for his album to drop, and I hope it gets the praise it deserves. 
1. Tierra Whack
23 year old Philadelphia rapper Tierra Whack shook the world up in 2018 with her release of her debut 15 minute album Whack World. Alongside the one minute tracks she released a 15 minute visual. She earned herself a Grammy nomination and much acclaim in the rap community. Not only is she creative as an artist and rapper, but she lets her ideas explode in her visuals. My favorite song by her has to be the 12 track off of the album "Pretty Ugly," which I've recently added my to my daily playlist. In the words of rapper Remy Ma "she brought the entire package as far as the song, the delivery, the vocals, and the actual visual. I feel like she did something that was super out of the ordinary, and I enjoyed it. And I wanna watch it again." She definitely is the full package and the best rapper on the freshmen XXl list of 2019.