Orlando Charity Single To Be Released By Broadway Stars
Broadway Stars Will Record A Benefit Single For Orlando Victims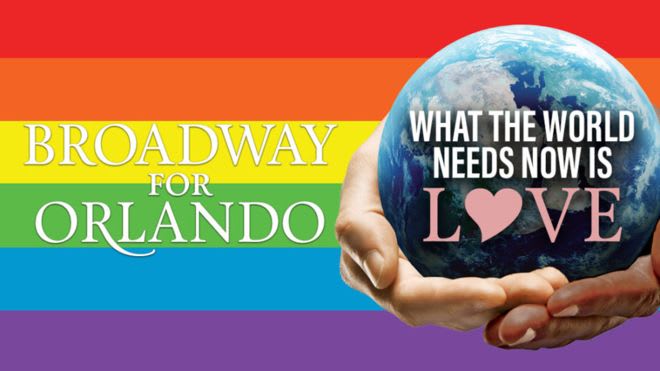 Broadway stars from the past and the present will come together to a record their own version of 'What The World Needs Now Is Love' single. The charity single is being recorded to support the victims of the tragic Orlando nightclub shooting.
Big names like Sarah Jessica Parker, Idina Menzel and Carole King are a few of the names that will be involved in this recording. It is inspired by the 1985 We are the World benefit for Africa.
"Everyone wanted to do something as quickly as possible," Seth Rudetsky
The digital download will be available to purchase from Monday and is priced at $1.99 (£1.40). Matthew Broderick, Gloria Estefan, Whoopi Goldberg and Rosie O'Donnell are also among the 60 people who will be singing and making sure their voices are heard in the single which will be recorded in New York, Los Angeles and Miami. Lin-Manuel Miranda, who wrote and starred in Tony-winning musical Hamilton is will also be taking part in the recording, along with other cast members whichwill contribute to the re-record of the Burt Bacharach-Hal David original song.
"We started making calls and suddenly we had tons of theatre actors along with an orchestra and the services of a fully-staffed recording studio, all willing to donate their time and talent. Our community of artists has banded together as we always do, to show we can end this cycle of violence and intolerance."- Seth Rudetsky
Tragically forty-nine people were killed and fifty three were injured on Sunday morning when gunman Omar Mateen had open fired at the Pulse nightclub in Orlando, Florida. All of the proceeds from the sale of the song, released by Broadway Records, will be benefiting the LGBT Centre of Central Florida.