15 Great Alternative Halloween Tracks
For demons with discerning tastes...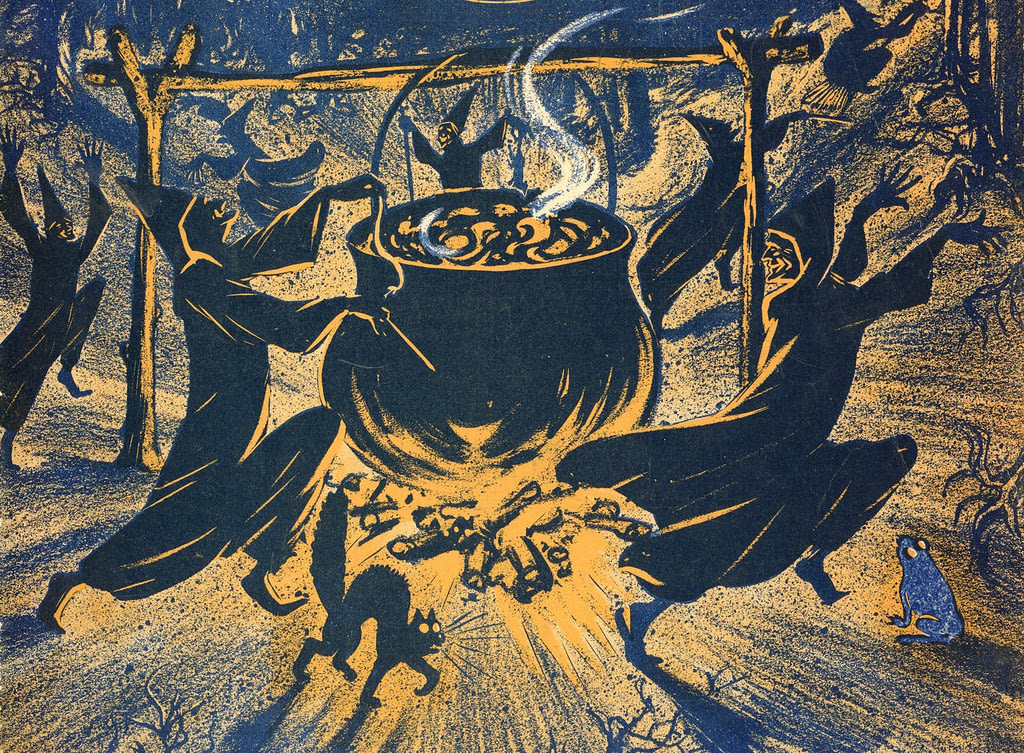 Any good Halloween party needs a pitch-perfect soundtrack. But how many times can you listen to "Monster Mash," or, if you're the edgier type, "Bela Lugosi's Dead"? This list of suggestions for your party playlist should help diversify your Halloween music library.
1) "Whistlin' Past the Graveyard" by Tom Waits
This tune by singer-songwriter Tom Waits is funky and vaguely terrifying in a way that only he can do. We're not sure if the singer is to be trusted or not, but we feel more than a little wary of whatever the hell is going on.

"I know you seen my headlights / and the honkin' of my horn / I'm callin' out my bloodhounds / Chase the devil through the corn."
2) "Lollirot" by Jack Off Jill
This sweet, kinky song from Florida Riot Goth band Jack Off Jill has a high energy and will encourage plenty of tricks and treats. A little bit of friendly cannibalism never hurt anyone.

"You are insatiable, / Latex smile peels off your skull, / Everyone knows they need a piece of lollirot. / Lolli lolli lolli lolli lolli lolli lolli lolli lollirot..."
3) "Demon Woman" by Flight of the Conchords
You don't want your playlist to be all dread and despair. Add a little gallows humor to the track list with this wickedly delightful song from Flight of the Conchords.

"Demon woman, / You're making me moan, / Turn my bone into stone / You're taking me home, / To meet your familiars. / Nice to meet you! / You cast your spell / Very well."
4) "Blue Spirit Blues" by Bessie Smith
Add some variety to your playlist with this frightening song from blues queen Bessie Smith. Enter the world of nightmares and demons and still return safely in time for the trick-or-treating.

"Had a dream last night that I was dead. / Evil spirits all around my bed. / The devil came and grabbed my hand / Took me way down to that red hot land..."
5) "Flying Saucer Attack" by the Rezillos
Aliens are a staple of modern Halloween, so they deserve their spot on this list. This peppy track from punk band the Rezillos should help energize your get-together.

"There's a threat approaching from the stars / All the horrors from Venus and Mars / Everybody better be on guard / When the Flying Saucers land..."
6) "Spooky" by Lydia Lunch
This track from Godmother of Goth Lydia Lunch has a hypnotic and disorienting tone that will leave you compelled and a little bit unsettled. Fall in love with the dark side to this deviant lounge tune.

"I'm gonna tell you all the things my heart's / Been dying to be saying / Just like a ghost you've been haunting my dreams, / So I proposed on Halloween. / Love is kinda crazy with a spooky little boy like you."
7) "Howl" by Florence + the Machine
Bringing some indie pop flavor to the list is this somber and haunting track from British group Florence + the Machine. Let your inner beast free to these bloody good beats.

"Screaming in the dark, I howl when we're apart / Drag my teeth across your chest to taste your beating heart / My fingers claw your skin, try to tear my way in / You are the moon that breaks the night for which I have to howl..."
8) "Dead Man in My Bed" by Nick Cave & the Bad Seeds
This energetic rock track from versatile songwriter Nick Cave and his backup group, the Bad Seeds, will definitely raise some spirits. It provides a nice juxtaposition for some of the gloomier selections on this list.

"There is a dead man in my bed, she said / I ain't speaking metaphorically / His eyes are open but he cannot see / There's a dead man in my bed!"
9) "The Silent" by Tragic Tantrum
This sexy and scary song by SoCal Gothic Cabaret band Tragic Tantrum is perfect for a Halloween get together. The chattering of monsters and gobbling of human flesh should blend in perfectly with the small-talk.

"We had a monster ball / And they all came out to play / They were dressed to the nines / In their scary monster ways / We had guzzard tea / And lizard skin / And baby legs and rolled around / Merrily and spilled our fluids..."
10) "Transylvanian Concubine" by Rasputina
If Drusilla from Buffy the Vampire Slayer thought this was good enough to play at her party, it's good enough to play at yours. The distorted violin will keep you disquieted as you dance into the night.

"If you want to know how to fly high / Then go now to the place / Where all the concubines meet / And converse with them / Marvel at their pale skin..."
11) "Evil Night Together" by Jill Tracy
Dangerous and erotic, this song by Gothic Cabaret musician Jill Tracy is something to play while you drink blood with your partner-in-crime. Listen to it as you and your party guests clean up the crime scene from the night before.

"We'll drink a toast in the torture chamber / And you'll go down on a bed of nails / We'll rendezvous in cold blood / I'll tie you up to the third rail / Let's wile away the hours / Let's spend an evil night together."
12) "Dead in Love" by Desert Sessions
Opening with the ominous chiming of funeral bells, this song from Josh Homme's Desert Sessions project is sweetly sinister; perfect for hanging out in the moonlight with your fellow undead.

"I'm not afraid to let you kill me, I know / No other way to feel your hollow bones / I'll fade into the shadow with you, I know / So dead in love, so dead in love / Did you hear my heart stop beating?"
13) "Lucky 13" by Collide
This witchy track by darkwave duo Collide should put a spell on anyone who hears it. The industrial beats are the perfect rhythm for a black cat to cross your path.

"Lucky 13 comes around / Lucky 13 moving along across my path / The damage is done / Across my path / Breaking the rules."
14) "Voodoo" by Chris Isaak
This unmistakably Goth-inspired track by rockabilly dreamboat Chris Isaak is ominous yet alluring. Get your fellow witches together for a dance around the bonfire to this song.

"Dance in a ring of flames / Shadows fall the same / Fire, love and pain / Do voodoo."
15) "Sheena's in a Goth Gang" by the Cramps
With a finger-snapping beat and a seductive guitar riff, this song by seminal psychobilly band the Cramps has a sense of danger and mystery. Dig yourself a nice cozy grave and a corpse to cuddle and enjoy.

"She's digging up the graveyard / Black lips and toenails / Brand new bat wing / At the county jail / Like Tammy trapeze / The dead acrobat / I dig her deeply when she swings like that..."