8EEZ Playlist: Eurythmics
One man. One woman. Equals musical genius.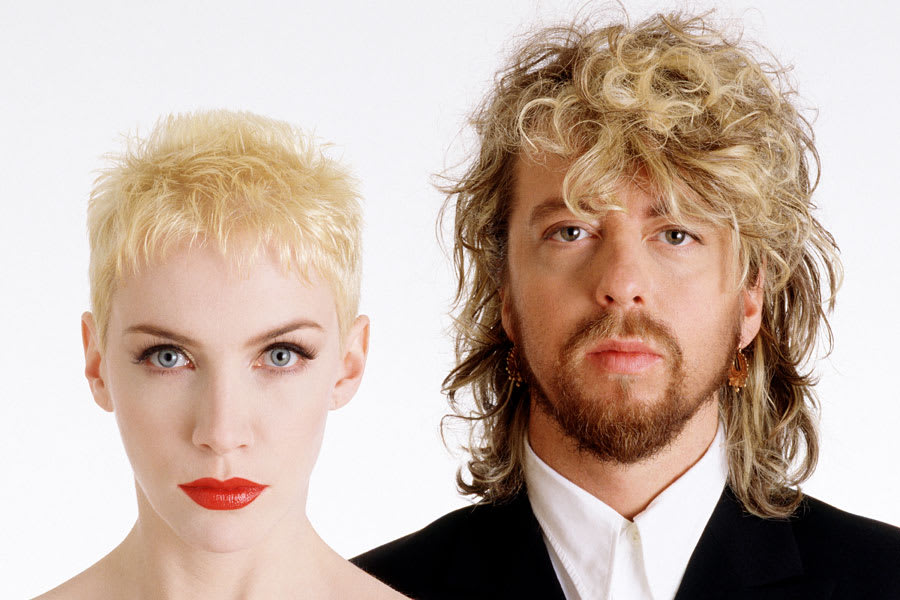 Hellooooooo out there!
This is the second 'list spotlighting an artist or group from the UK who were part of the burgeoning 80s British invasion. A Scottish woman and an English man who were the rarest breed of group; a male/female duo made up of two different people (NOT a brother/sister/family act).
Annie Lennox and David A. Stewart made up the new wave/synthpop duo Eurythmics who formed after leaving their former group The Tourists in 1980. Their first album failed to make a dent, but their 1982 album "Sweet Dreams (Are Made of This)" spawned the title track in 1983, giving them their only US Number 1, put them out there and gave their rise to fame.
A few modest hits like "Love Is a Stranger" gave them staying power, until "Touch" was released and gave them their top-3 smash hit "Here Comes The Rain Again" as well as their followup hit, "Who's That Girl." Their sound was a beat-driven, mature New Wave/rock/dance sound. Then, in 1985....
Their album "Be Yourself Tonight", they broke their own 'sound' barrier by backing up with a band as their musical palette expanded to include hard rock, power pop, classical, gospel and R&B (a 'tri-et' with the legendary Aretha Franklin on "Sisters Are Doin' It For Themselves" would give them some clout with the soul music genre). They even featured music wunderkind Stevie Wonder; billed as Eivets Rednow, on harmonica.
My buddy Oates contributed his list and here it is as follows:
Cherry's Picks:
5. Who's That Girl (1984)
Moody New Wave/rock/dance confection not to be confused with the title track from Madonna's 1987 movie bomb. Annie glams it up with a series of costume changes in her 60s cabaret-style video (where she even appears as a dude and kisses her female counterpart — really!)

4. Would I Lie To You? (1985)
Their first official foray into the dance/rock stratosphere with a pulse-pounding beat and a snappy brass section hook. Annie never looking better on a slinky one piece, a far cry from her well-known androgynous style and bevy of man-suits.
3. Missionary Man (1986)
The hit streak continued into the late-80s, but sadly the juggernaut that once was showed signs of fading. Still, it had a memorable MTV video with stop-motion animation, much like Peter Gabriel's iconic mind-bender, "Sledgehammer."
2. Here Comes The Rain Again (1984)
Their second signature song with the killer synthesizer opening and use of orchestral strings to the classic "Talk to me like lovers do" hook. Euphoria to the max!

1. Sweet Dreams (Are Made of This) (1983)
A booming bass with a synthpop beat and the unforgettable keyboard intro sets the song into motion. As soon as you hear Annie's sexy vocals belt out the first verse; you're in. The MTV video shows off Annie's sexy masculine side.

My Picks:
5. I Need a Man (1988)
A classic throwback single which conjures up the sexy 60s divas like Dusty Springfield and Nancy Sinatra. In the video, Annie gets to wear a crazy Marilyn Monroe-style get up, complete with all-out-crazy platinum blonde wig. Killer guitar licks and Annie's lip licks make this one a winner!

4. Love Is a Stranger (1984)
Throbbing beat and the patented synth/new wave sound they were known for. Stewart adds some sexy 'grunt' vocals in between Lennox's vocals. A nice opera sensibility adds to the melodic stew. Lennox switches her outfits showing off her male/female personas a la Victor/Victoria.

3. Here Comes The Rain Again (1984)
Also on my list. Their use of orchestral music and strings is what makes this such an enduring classic. Their moody MTV video which was actually shot in the Island of Hoy in Oarkney, Scotland.

2. There Must Be An Angel (Playing With My Heart) (1985)
The followup to their top-10 hit "Would I Lie to You" had them dressing up in foppish garb and going all "Alice In Wonderland-ish-in-heaven" on us. While it wasn't a huge stateside hit, it is quite memorable for its elements of classical music and gospel. 
Though he doesn't appear, it's clearly Stevie Wonder on harmonica on this track. Hit the top spot in their native UK. And finally...surprise, surprise!
1. Sweet Dreams (Are Made of This) (1983)
What else is there to say? Their most iconic single and video ever. End of story.

All for now. Next up. Aussie super-group with sexy front man who left us too soon.