8EEZ Playlist: Ronnie Milsap
A country icon fought adversity and triumphed - co-authored by Calvin 'Oates' Cherry.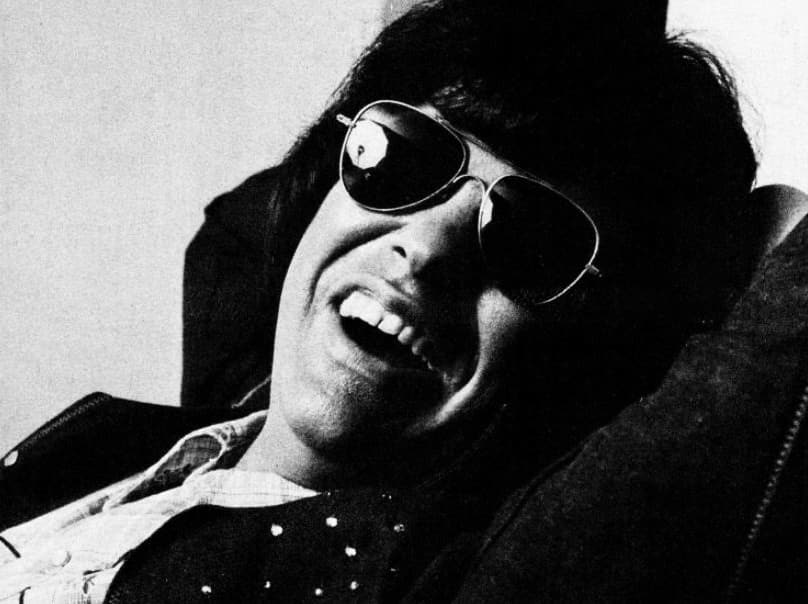 So, here it is.
The first playlist that really isn't my own. As I mentioned, this dueling playlist was designed to chronicle artists of various musical genres in the 1980s; but, as it turns out, I've been bested by at least one genre that I am a little unversed in: country music.
Thankfully, my good buddy, Calvin Cherry, who is the "Oates" to my Hall in this project, has written the bulk of this entry, being quite the country music connoisseur (not to mention a one-time country music disc jockey in Lafayette, Tennessee), has been given his first 8eez Playlist spotlighting a country superstar, who like Stevie Wonder, Ray Charles, and Jose Feliciano, didn't let his inability to see keep him from chasing his dream of musical stardom: Ronnie Milsap. Take it away, Oates.
The Ronnie Milsap 8EEZ Playlist by Calvin Cherry
Ronnie Lee Milsap (born January 16, 1943 in Robbinsville, North Carolina) suffered from a congenital disorder at birth which left him almost completely blind. Abandoned by his mother, he was raised by his grandparents in poverty until he was sent to the Governor Morehead School for the blind in Raleigh at age five. Developing a love for all kinds of music, the school instructors noticed his talent early where he was encouraged to pick up and learn several instruments. In time, he gravitated to the piano. Initially settling on being a lawyer, Milsap was awarded a full college scholarship at Young Harris College in Young Harris, GA. After starting school, he joined a R&B band, playing the Royal Peacock in Atlanta. Soon afterward he made the decision to leave college to pursue a career in music.
In 1963, Milsap met Atlanta disc jockey Pat Hughes who helped launch his career - one which started out in R&B! He was signed to Scepter Records; and during the next few years he recorded several songs that got airplay, which led to him working with soul musicians like Ray Charles, Stevie Wonder, and James Brown. In 1965, Milsap scored his first hit with the Ashford & Simpson song, "Never Had It So Good", which peaked at No. 19 on the R&B chart. Milsap followed up with another Ashford & Simpson tune, "Let's Go Get Stoned," which became a B-side. Although a few months later it became a million-selling single for Ray Charles whom liked Milsap's version of the song so much he decided to record it himself. Milsap's Scepter recording of "Ain't No Soul Left in These Old Shoes" found popularity in England and became a floor filler in northern soul clubs.
After moving to Memphis, Tennessee in the late 1960s, Milsap worked for producer Chips Morman and became known as a popular weekly artist at T.J.'s, a hot Memphis nightclub. During this time Milsap became a session musician, playing piano on several Elvis Presley records including "Don't Cry Daddy" and "Kentucky Rain." In 1970 he released the single "Loving You Is a Natural Thing" which almost broke the top 40. He recorded and released his debut album, Ronnie Milsap, on Warner Brothers in 1971 with minimal fanfare.
But in December 1972, Milsap changed direction when he moved to Nashville after running into country singer Charley Pride who encouraged him to focus on country music. Milsap started working with Pride's manager, Jack D. Johnson, and was signed to RCA Records. In 1973 he released his first single for RCA, "I Hate You", which became his first country music success, peaking at No. 10 on the country chart. This began an impressive career in music which provided him hit after hit until the early 90s when changes in the music industry began to take place.
Indeed, Ronnie Millsap is one of music's most popular and influential performers of the 70s and 80s. Likewise, he became one of the most successful and versatile country crossover artists, incorporating country, pop, R&B, and rock and roll elements into many of his hits. He is credited with 6 Grammy Awards, 41 No. 1 singles, 69 top 40 singles, and 8 CMA awards. He was inducted into the Country Music Hall of Fame in 2014. All but 5 of his 28 singles in the 1980s alone reached number 1, with 12 crossing over into the pop and or adult contemporary charts.
5. I Wouldn't Have Missed it for the World (1981)
An "Urban Cowboy" hit that went to #1 on both the US and Canadian country charts, #20 on the US Hot 100 Pop charts and #3 on the US Adult Contemporary. The infectious chorus has made it one of his biggest hits in his recording career.

4. A Woman In Love (1989)
Milsap's last song to reach #1 on the US Country Singles Chart. Written by Curtis Wright and Doug Millett, Wright thought that the song was not suited for Milsap's style. Considering it also reached #1 on the Canada Country Tracks, others disagreed.

3. Lost in the Fifties Tonight (1985)
This medley was written by Mike Reid and Troy Seals and features a cover of The Five Satins' 1956 hit "In the Still of the Night." It went to #1 on the US Hot Country and Canadian Country Tracks charts, #8 on the US Adult Contemporary and #20 on the Canadian Adult Contemporary charts. This song was praised by fans and critics and remains one of his most popular recordings.

2. Stranger in My House (1983)
This is an interesting track due to the fact that it was written in a minor chord, the middle of the studio track features a rock guitar solo (that some stations edited out), and some stations refused to play it because they thought it sounded like Led Zeppelin. The black and white video featuring an erotic dance added to the dark mystery of the song about a man's wife fantasizing about a secret lover.

1. Smoky Mountain Rain (1980)
Milsap's signature classic and Tennessee's state song since 2010. Went to #1 on both the US Hot Country and US Adult Contemporary charts. It also crossed over into the US Billboard Hot 100, peaking at #24.
1. I Wouldn't Have Missed it for the World (1981)
CJG: This may be the one Milsap song I am truly familiar with. A sweet country/pop hit that went higher on the country charts than the pop, but its AC sound made its way into pop stations and therefore made it's way eventually to me.
I thank my dear friend and musical writing partner for his contribution and look forward to our next collaborative effort. The 'list goes on...and on! And it will go on.