Beat is powered by Vocal creators. You support
jake browning
by reading, sharing and tipping stories...
more
Beat is powered by Vocal.
Vocal is a platform that provides storytelling tools and engaged communities for writers, musicians, filmmakers, podcasters, and other creators to get discovered and fund their creativity.
How does Vocal work?
Creators share their stories on Vocal's communities. In return, creators earn money when they are tipped and when their stories are read.
How do I join Vocal?
Vocal welcomes creators of all shapes and sizes. Join for free and start creating.
To learn more about Vocal, visit our resources.
Show less
The Best Albums of 2018
My Personal Opinions About the Great Music of the Year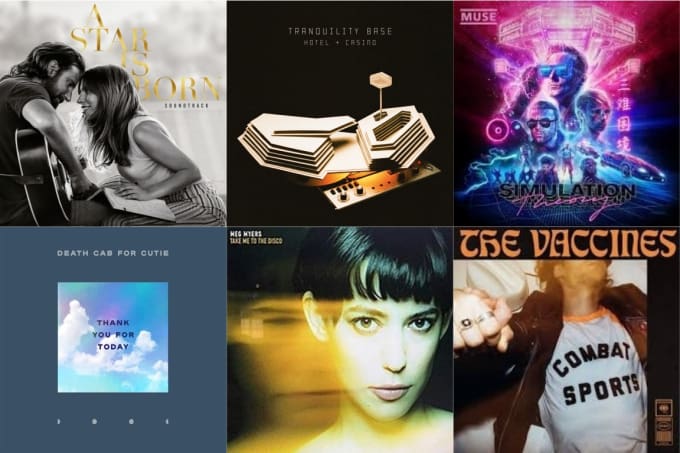 We have had some surprising releases this year in the way of music. From a band reinventing themselves, to an acting duo bringing out a movie soundtrack that will break your heart all over again. 2018 has been a stunning year for music, I'm hear to walk through my 10 favourite albums and EP's of the year. enjoy the List!
P.S. These are just my personal opinions but I have carefully calculated the ratings and values associated with each album.
10. 'Simulation Theory' by MUSE
This was MUSE's 8th album and by far their best. The album's whole aesthetic is reminiscent of 80s science fiction movies, probably explaining why they got Stranger Things' cover artist Karl Lambert to design the cover, the album holds its own a lot further than just aesthetic though. The band embraces a more pop lead album whilst keeping to their alt-rock roots. in the way of analysis it works well for the most part but some songs fall a bit flat.
The pre-releases for this album were "Dig Down" and "Thought Contagion." While "Dig Down" took me a while to warm up to, I took to "Thought Contagion" as quickly as you can say, "Wow, this song is pretty good." With the pre-releases in mind, the whole album took me about two seconds to fall in love with. "Algorithm" was a slow start, but as soon as dark side kicked in, I was very much at ease. "Propaganda" is the song on my mind most, as it was a collaboration with producer Timberland. I personally loved "Propaganda," and it was one of my favorite tracks on the album. It does not feel out of place at all giving the album a strong unique style in the way of instrumental aspects.
The weakest songs for me were algorithm and break it to me. Break it to me was bland and it did not really feel like Muse in my eyes. "Algorithm" is just a touch too slow and fails to engage me for the first minute. The second half of the song is of a high enough quality to redeem this, but a strong first half would have been much better for an opener. The only complaint I have about Muse is now that they have eight albums with themes of oppression, maybe let's look at something a little bit different. I'm not saying for Muse to change who they are, but maybe look at it with a fresh pair of eyes.
Overall Rating: 9.05/10
9. 'Love Monster' by Amy Shark
You may not know this gem but you really should. Chances are you have listened to "Adore." The struggles of getting her music across to us can be seen by the fact "Adore" came out in 2016 and only this year did we get the full album. "Adore" went quadruple platinum in Australia (her homeland) and you can see why: "Adore" is a relatable and emotionally throbbing song full of truth. To me, Amy Shark is the most relatable artist on this list and Adore is most definitely in my top end of my top songs of 2018 list.
Amy Shark works with Blink-182's Mark Hoppus and completely shines over him in the song "Psycho." This song is probably the finest presentation of Amy Shark's vocal, lyrical and instrumental abilities. The song focuses on the paranoia surrounding fresh relationships and well and truly hits the nail on the head like no other artist could.
The album does feel a little repetitive and some songs fall a bit flat which tells me that 14 songs was probably a tad too many. The weakest songs to me were "Don't Turn Around" and "The Slow Song." These were prime examples of falling flat by the end of the song, but in Amy Shark's defence, two weak songs out of 14 on a debut album is not bad going; and even if she basically copies this albums format for her second album, it would probably still find its way on to my top 10 list for the year it comes out. 
Overall Rating: 9.13/10
8. 'High as Hope' by Florence and The Machine
A slower pace to what I was expecting from this South London power house; but it is understandable, as Florence Welch said so herself that she is much more peaceful and was giving more in the way of lyrics. 
The song "Hunger" is the one I want to talk about most. Not only is it one of the best songs of the year, it is also the best Florence and The Machine song I have ever heard. This could be the problem for me regarding this album; a pre-release like this and there is then no chance that the rest of the album could possibly live up to these enormously high expectations.
The song "Big God" is probably the weakest song on this album for me due to its jumbled pacing and overly morbid tone. Now, obviously "Hunger" and other songs on this album could be conceived as depressing but morbid is not how I would describe them. "Big God," on the other hand, I would describe as morbid. In full honesty I would say I was expecting the album to be higher on my list but taking all songs into account the album falls a bit low and I do have to be in a very specific mood to appreciate the music.
Overall Rating: 9.13/10  
7. 'Take Me to the Disco' by Meg Myers
Meg Myers continues to impress me. I thought that her first album was damn near perfect and captured a subtle type of rock music I am not accustom to but very much enjoyed. This second album plays more with the rock aspect of her first album and less of her punk-pop features from her first, although there is most definitely pop elements within the album.
I loved the songs "Numb," "Some People," "Tourniquet," and "Tear Me To Pieces." These are all songs that took note from what was great about the first album and built upon it. Meg Myers seems to see an element of relationships and romance that many others do not and these songs capture things perfectly.
The negative to this album is also a positive in a way, she has weak instrumental aspect to a lot of her songs, causing a lot more attention to her vocal performance. Meg Myers' voice is just shy of perfect for her style but the music in her first album gave her vocals time to shine and had a good instrumental backing. This delicate balance has been tinkered with in album two, but at this point I am just nit picking. 
Overall Rating: 9.17/10

6. 'Tranquility Base Hotel and Casino' by Arctic Monkeys
The most divisive album on this list to start with, ending up to be an album people have come to appreciate a great deal. This album could have very well not have been on this list at all and that shows you the ambitious nature of this album. To go from garage brit-rock to this soothing, gentle and atmospheric piece of art. This metamorphosis was quite literally overnight. One day they were considered a Rock-Pop sensation and then everyone heard this. many were disappointed...at first, but with time the album has taken on a following all of its own, a following I am very much proud of.
I love all the songs in this album more or less equally. The songs "Four Stars Out Of Five" and "Science Fiction" are definitely highlights. the weakest song may very well be "Batphone," purely because it fails to bring anything new to the table.
Sadly I feel this is not much of an Arctic Monkeys' album, not because of the drastic change, but because Alex Turner takes the spotlight far too much and the rest of the band gets very little time to shine. It would have made more sense to have Alex Turner do this experimentation in a solo album and maybe tried something equally different for the Arctic Monkeys' album. Seeing Arctic Monkeys live, I now see that the rest of the band does not really know what to do with itself when performing TBHAC songs. Possibly would have been better if the rest of the band had more to do.
Overall Rating: 9.19/10
5. 'Thank You for Today' by Death Cab For Cutie
From the hopeful and inspiring title, to the bleak but honest closing song, this album is a complete delight and is very fulfilling to listen to. Ben Gibbard hits a home run of an album as if he's not even trying which is almost unbelievable considering the mediocre Kintsugi they released prior to Thank You for Today. The band is not known for coasting on a certain theme but the theme of this album is incredibly unique. The themes of growing old and just life going on in general. No one wants to grow old with regrets and this album captures this notion almost idealistically.
Gibbard's writing is at its finest in years with Thank You for Today, his tearful lyrics play perfectly with the vocal performance of Gibbard and the instrumental aspects offered up by the rest of the band plays beautifully with this also. This leads to the most wholesome album Death Cab has done in a while. "Gold Rush" is possibly the most hollow and uneventful song on the album, but it does play well with the albums aesthetic, even if it is a near miss.
The album's strengths are any song on this list. Take your pick. "60 & Punk" is up there with the very best of DCFC. It is the perfect closer. In an age where rappers and pop stars are bragging about how great their lives are, it is most refreshing to hear a song contrary to this. Gibbard offers up "60 & Punk" and every note, every chord and every sway of Ben Gibbard's emotional voice lands perfectly. "60 & Punk" is definitely one for the ages and sums up the album almost exactly, well done to Gibbard, everything is back on track.
Overall Score: 9.20/10
4. 'Combat Sports' by The Vaccines
The Vaccines have never been able to recapture the magic of their first album...until now! This album is everything "What Did You Expect From The Vaccines?" dialed up to 11. The Vaccines have had a rough time since English Graffiti and the band did not know where to go next, clearly the answer was to the top. Combat Sports seems to accumulate something from all of its albums and learns from their mistakes, safe to say that the vaccines have well and truly rediscovered themselves.
The obvious song to mention here is "Nightclub." This song is a proper British rock headbanger and takes a few listens to warm up to; but when that light bulb finally lights up, you will not be able to get enough of this song. My personal favourite here is "Rolling Stone." Yet another closing song that shows the best of the band, giving you an ending worthy of the rest of the album. The adrenaline pump I get in this song is comparable to "Put it on a T-Shirt," "I Can't Quit," or "Take It Easy;" but "Rolling Stone's" opener trumps all of the above and the band works like a well oiled machine, each member bouncing off the other like they should.
In all honesty there is not much bad for me to say in relation to this album. I will mention "Young American" and how this is probably the weakest song on the album. "Young American" is a not so welcome pace drop in a remarkably easy to listen to, fast paced album, besides that, The Vaccines would struggle to produce such a well polished album again any time soon, but I would love to be proven wrong.
Overall Score: 9.24/10
3. 'A Star Is Born' by Bradley Cooper and Lady Gaga
If you have not seen the film, this album is just another soundtrack to the movie, but if you have seen the film, then this album carries an extra tonne in the form of pure emotion. Who knew Bradley Cooper was as remarkably talented as he showed us he was in this album? I most certainly did not and I hold my hands up and say I did not expect what I got from him.
The album carries many themes from a rising star, to a falling legend. This album carries within it the most pure and vibrant chapters of two peoples' lives. I am not the type of person to consider a movie soundtrack to be exceptional music (hence the lack of The Greatest Showman on this list) but this album surpasses just a soundtrack, it is the accumulation of two highly talented performers working off one another with enough chemistry to blow up a high school laboratory. I will not even mention Lady Gaga as if I do I will be writing way too much, let's just say she is phenomenal and has come a remarkably long way from "Just Dance" and "Poker Face." If you need further proof of this I recommend her Jazz album with Tony Bennett, "Cheek to Cheek," or the album dedicated to her Auntie, "Joanne."
My only complaint about this art form is the deliberately bad "why did you do that?" which did not necessarily need to be included in the album but still manages to be annoyingly catchy. If you have not seen the film, certain songs my fly over your head. Watch the movie, Listen to the soundtrack, thank me later.
Overall Score: 9.30/10
2. 'Nation of Two' by Vance Joy
I am not going to lie, "Riptide" grated on me by the time everyone stopped listening to it. I well and truly did not appreciate how over played it was, that is what makes this album so special: I have not heard it anywhere! God knows why not either as every one of my family members who has listened to it on my recommendation absolutely loves it. Vance Joy steps away from that pop spotlight and gives us a singer/songwriter gem that only comes along every so often. The album focuses on intimacies (if you had not guessed from the title) and tread on very familiar ground with a fresh pair of feet.
"One of These Days" and "Where We Start" are low points on the album, not really defining themselves with much uniqueness, but are still an enjoyable treat to listen to. "Saturday Sun," "Like Gold," and basically any other song are masterful gems of acoustic heaven, not really playing around much with topic, but definitely plays around with the constructs of such rehashed love stories.
Although the album may have been divisive critically, but I am no critic and I have no problem admitting its faults, as in it is occasionally slow and a tad dry, but the minor mis-steps are more than acceptable due to the high quality of the rest of the album. Vance Joy could expand his topic field, in doing so could produce an album that will be second to none.
Overall Score: 9.32/10
Honorable Mentions
My Mind Makes Noises by Pale Waves

Jubilee Road by Tom Odell

The Art Of Pretending to Swim by Villagers

1. 'Beautiful People Will Ruin Your Life' by The Wombats
Without a shadow of a doubt the most undoubtedly perfect album I have listened to in a long time. No particular theme other than "let's make the best damn songs we can!" And oh boy, are these some of the best damn songs ever made. There is not a single song in this album I do not value 100 perfect. The Wombats were mediocre before hand, handling teen pop-rock but this album bleeds into indie-Brit-rock, and it's the indie part that makes this album such a treasure.
This album could be on repeat for days and I would not get bored of this undeniably British, unique and stunning album. Songs like "Lemon to a Knife Fight," "Lethal Combination," and "Ice Cream" all have lyrics that can simultaneously make you smile, dance and have a tear form in your eye. I went on a 30-minute drive just to buy this album on vinyl, it was worth every second of the journey.
The Wombats have reminded me that no matter what my opinions of a band are, there is always room for development and I should never judge an album without listening to it in full. If I decided not to listen to this album due to previous Wombats records then I would have missed out on this undeniably perfect reflection of modern day music. Well done to the Wombats, I look forward to see where you go next.
Overall Score: 9.9/10